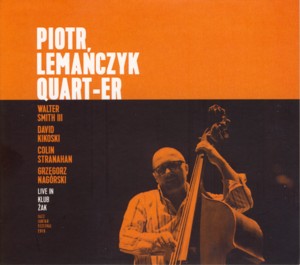 PIOTR LEMANCZYK QUART-ER ~ LIVE IN KLUB ZAK
SOLITON 580 (Barcode: 5901571095806) ~ POLAND ~ Jazz
Recorded: 2016
Released: 2016
---
This is a live recording by a quartet led by Polish Jazz bassist / composer Piotr Lemanczyk

Find albums by this artist

, which features three American Jazz musicians: saxophonist Walter Smith III

Find albums by this artist

, pianist David Kikoski

Find albums by this artist

and drummer Colin Stranahan

Find albums by this artist

. Polish trombonist Grzegorz Nagorski

Find albums by this artist

joins the quartet on three tracks, expanding the lineup to a quintet. The album presents seven tunes, six of which are original compositions by Lemanczyk and one is a standard.

Although Lemanczyk is definitely one of my favorite contemporary Polish Jazz musicians / composers, this album leaves me with mixed feelings, especially in comparison to his earlier recordings as a leader or sideman. Obviously since the majority of the players on this album are American, the music has almost nothing to do with Polish Jazz and should not be considered as such. Even the compositions by Lemanczyk are not able to save the day, and overall this sounds as just like one of thousands of American Jazz recordings which flood the market and are then immediately forgotten.

Of course these musicians can all play very well and have been doing so since many years, but on the other hand they have been playing the same post-Bebop stuff since their student days at the Berklee College of Music (well just two of the Americans studied there). This album might have been recorded anytime between now and fifty years ago, and we wouldn´t be able to tell the difference. In short I can understand the desire to play with renowned musicians, but the fact that those musicians come from the mainstream American scene might prove to be a drawback rather than an advantage.

Of course fans of mainstream American Jazz will find this album as exciting as anything else in that genre, and the two Polish musicians play at least as good as the Americans, if not better. Considering the excellent recording quality and the nice tunes by Lemanczyk, this is still an album worth listening to, but hardly anything that will change the Jazz idiom.
---