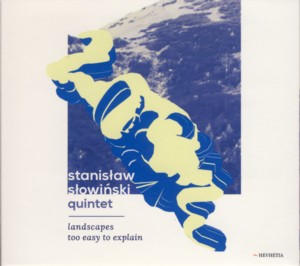 STANISLAW SLOWINSKI ~ LANDSCAPES TOO EASY TO EXPLAIN
HEVHETIA 0139 (Barcode: 8588005257978) ~ POLAND ~ Jazz
Recorded: 2016
Released: 2016
---
This is the debut album by a quintet led by Polish Jazz violinist / composer Stanislaw Slowinski

Find albums by this artist

, which also includes trumpeter Zbigniew Szwajdych

Find albums by this artist

, pianist Katarzyna Pietrzko

Find albums by this artist

, bassist Justyn Malodobry

Find albums by this artist

and drummer Maksymilian Olszewski

Find albums by this artist

. Together they perform seven original compositions, all by the leader.

The music is an excellent example of modern Polish Jazz, which although melody based and well within the mainstream convention, manages to maintain a very high level of compositions and performances. It is soaked with typical Polish melancholy and Slavic melodic motifs, and of course focuses on the violin as the leading instrument, and as a result one can hardly find a more spiritually "Polish Jazz" album than this one. The pairing of the violin and the trumpet as the two lead instruments proves to be extremely effective and harmonically attuned, in spite of its rarity.

As usual with the new generation of the Polish Jazz musicians, Slowinski, despite his young age, has already an impressive list of accomplishments to his credit, which includes leading / membership in several projects, including as diverse directions as Improvised Music on one hand and Classical Music on the other. This album, which sits, as already mentioned, comfortably within the mainstream Jazz idiom, presents yet another facet of Slowinski´s versatility and is primarily dedicated to presenting his compositions. But of course his performances on the violin are full of beautiful sensitivity and technical excellence.

It is worth mentioning that Slowinski is yet another representative of the Polish Jazz Violin School, which enjoys an incredible renaissance in the last decade, and places Poland in the leading position as far as violin artistry is concerned in the Jazz field. He joins the ranks of many of his colleagues, who proudly continue the traditional role of the violin as one of the most expressive instruments available to mankind.

The rest of the quintet members are all of course excellent performers as well. Szwajdych delivers melodic accompaniment and excellent solo parts, Pietrzko lays out the harmonic layer upon which the tunes progress and fills the gaps with her delicate but solid statements, and hopefully will play more solo parts on future recordings. The rhythm sections provides admirable and flawless support to the soloists, and plays always at the right levels to make the music a whole bigger that the sum of its parts.

This is definitely a very impressive debut, which comes with a firm recommendation to follow these wonderful young people in their future endeavors. Well done indeed!
---