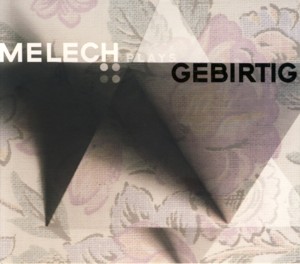 MELECH ~ PLAYS GEBIRTIG
MULTIKULTI MPT 015 (Barcode: 5907796319826) ~ POLAND ~ Free Jazz / Improvised Music
Recorded: 2015
Released: 2016
---
This is the debut album by Polish Free Jazz / Avant-Garde quartet Melech

Find albums by this artist

, which comprises of clarinetist / composer Piotr Melech

Find albums by this artist

, trumpeter Marcin Albert Steczkowski

Find albums by this artist

, bassist Marcin Jadach

Find albums by this artist

and drummer Michal Kasperek

Find albums by this artist

. The album presents six pieces, five of which were composed by the Polish / Jewish poet / songwriter Mordechai Gebirtig

Find albums by this artist

and one is an original composition credited to all four members of the quartet.

The album continues the interest in Jewish music by the Polish Jazz Avant-Garde, which is one of the most fascinating developments on the local scene since the turn of the Millennium. A whole "New Jewish Music" scene developed in Poland, exploring the treasures of Jewish Music and creating contemporary Jewish Music, despite the fact that there are almost no members of the Jewish community left in Poland at the moment.

Gebirtig´s legacy is one of the most re-visited, which is no surprise considering the wealth, depth and strength of his creations. Some of the treatments of his songs in the past suffered from too many liberties, but this album is a wonderful example of just the right way to respect the original music and take it forward to contemporary Avant-Garde.

The quartet manages to preserve the spirit of the music in spite of the radically changed musical environment and the individual contributions by the quartet members fit the transposed sounds ideally. Melech states the original melodies almost faithfully, before those are picked up by the rest of the band and transformed, stretched and re-composed in Free Form. The rhythm section is elevated to a full membership within the quartet, adding its invaluable contributions. I wonder what would Gebirtig say to these transformations, but considering his progressive intellectualism, he would probably embrace them wholeheartedly.

Overall this album is a wonderful example of preservation by modernization, where Culture is brought forward to contemporary recipients in form and shape that bridge over time barriers. It manages to stand by itself both as a contemporary work of art and as a tribute to the past. Thanks to the talent of the musicians involved and their respect towards the source of this music, their goal was achieved in full. This is definitely one of the most successful tributes to Gebirtig´s legacy done within the Polish Jazz Avant-Garde. Wholeheartedly recommended!
---