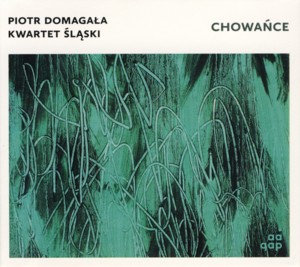 PIOTR DOMAGALA / KWARTET SLASKI ~ CHOWANCE
GAP (Barcode: 5905669506014) ~ POLAND ~ Jazz-Classical Fusion
Recorded: 2016
Released: 2016
---
This is the fourth album by Polish Jazz guitarist / composer Piotr Domagala

Find albums by this artist

, recorded in an unusual setting with the Kwartet Slaski

Find albums by this artist

String Quartet (violinists Szymon Krzeszowiec

Find albums by this artist

and Arkadiusz Kubica

Find albums by this artist

, violist Lukasz Syrnicki

Find albums by this artist

and cellist Piotr Janosik

Find albums by this artist

) and percussionist Slawomir Berny

Find albums by this artist

. Together they perform eleven original compositions, all by Domagala.

The music is an interesting amalgam of Jazz, Fusion, Classical Music and World Music, a true cross-genre voyage, based on beautiful melodic themes and featuring interesting and unique arrangements. The compositions are full of typical Polish / Slavic melancholy and mysticism, expressed both by the melodic / harmonic setting and the complex arrangements, fabulously executed by the string quartet, which often sounds like layers of synthesizers rather than violins, viola and cello. In that respect this is one of the most unique projects I came across in 2016 not only on the Polish scene, but worldwide.

Domagala is a very accomplished guitarist and plays many breathtaking passages on this album. Most of the guitar work is acoustic and uses a plethora of different guitar techniques. A few electric parts are also present, but those are overall less significant as the album presents mostly a serene, intimate atmosphere, which is best served by the acoustic approach, which of course also corresponds well to the string quartet.

The string quartet, as already mentioned, is absolutely superb, playing completely originally and free of any Classical Music conventions, which often limit classical musicians and cause their cooperation with Jazz musicians to fail miserably. In this case the cooperation works out perfectly and the string quartet contributions are equally important to those of the leader.

Berny is an ideal choice for this album, where his great sensitivity and rhythmic proficiency suit the music perfectly. Berny´s experience with World Music and Jazz oriented projects is very extensive and his contributions here emphasize the rhythmic qualities of the music gracefully.

Overall this is a striking album, which presents ambitious and innovative music, superbly executed by the participating musicians. It is a wonderful example of intelligent music, which can also be very emotional and aesthetically pleasing.

The album, which was recorded in the excellent RecPublica Studios, offers a stunning sound quality, which should satisfy even the sternest Hi-Fi connoisseurs. Wholeheartedly recommended!
---