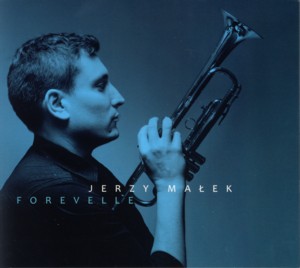 JERZY MALEK ~ FOREVELLE
KAYAX 103 (Barcode: 5907678818645) ~ POLAND ~ Jazz
Recorded: 2016
Released: 2016
---
This is the seventh album as leader by Polish Jazz trumpeter / composer Jerzy Malek

Find albums by this artist

, recorded in a quintet setting with keyboardist Dominik Kisiel

Find albums by this artist

, guitarist Krzysztof Lochowicz

Find albums by this artist

, bassist Andrzej Swies

Find albums by this artist

and drummer Slawomir Koryzno

Find albums by this artist

. Saxophonist Maciej Kadziela

Find albums by this artist

guests on one track. Together they perform seven original compositions, all by Malek.

The music is typical melodic mainstream Jazz, full of distinctive Polish Jazz characteristics, like melancholic ballads, Slavic folkloristic harmonies and the overall atmosphere of poignancy, even on the up-tempo numbers. All the seven originals are solid compositions, elegant, well structured and aesthetically pleasing, especially so the ballads, which seem to be Malek´s forte.

The execution is also top notch, with evident class and talent displayed by the musicians involved. Malek is an excellent trumpeter, with steady clear tone and brilliant phrasing, and his playing is a great example of the classic approach to Jazz trumpet, which is sadly not very appreciated these days. Kisiel plays beautiful piano lines both on the acoustic and electric instruments, contributing several nice solos and supporting the leader amicably. Lochowicz is a mystery as I could only hear him on one tune and there he was so back in the mix that he was totally lost. Swies, a veteran and brilliant bassist, is one of the top Polish players and every recording featuring his talents is already ahead just by his presence. Koryzno plays also very well, supporting the steady rhythmic patterns with confidence and skill, staying respectfully in the background.

Overall this is a classic mainstream album, which features superb tunes and excellent execution, which should make every Jazz connoisseur in the world happy. There is no innovation or groundbreaking here, but not every Jazz album has to be about these elements. Playing solid, excellent mainstream Jazz like the one here is still Art.
---