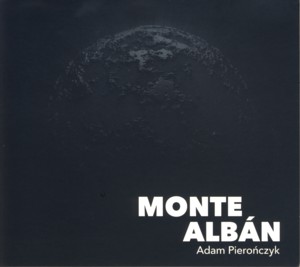 ADAM PIERONCZYK ~ MONTE ALBAN
JS 020 (Barcode: 5908254159602) ~ POLAND ~ Free Jazz / Improvised Music
Recorded: 2016
Released: 2016
---
This is a beautiful album by veteran Polish Jazz saxophonist / composer Adam Pieronczyk

Find albums by this artist

, recorded during a Mexican tour with his trio, which also included Polish bassist Robert Kubiszyn

Find albums by this artist

and Mexican drummer Hernan Hecht

Find albums by this artist

. Together they perform eight original compositions, seven of which were composed by Pieronczyk and one was co-composed by all three trio members.

The album has a highly unusual sound, mostly due to the use of electronic devices to process the sound of the bass and add background sound layers to the trio´s performances. This contemporary approach creates a vigorous and fresh sound of the otherwise strictly Jazz oriented material and is by itself very unique.

Pieronczyk is of course one of the best Polish Jazz saxophonists and his playing is nothing short of spectacular. His post-Coltrane approach, which he follows since many years, is an inexhaustible source of inspiration and delight and his stability and consistency are also remarkable. This recording is basically well within the "organized" Free Jazz idiom, with some Fusion injected via the rhythm section contributions.

It is remarkable to hear established and respected musicians still trying to innovate and search for new ways to express their musical vision. This tireless quest is what Art is all about and it´s great to see that Pieronczyk is faithful to his inner truth and keeps challenging himself, the musicians he plays with and of course his listeners.

The intimate relationship between Pieronczyk and the rhythm section is one of the crucial elements of this music, which make it so successful. Minimalism, respect and a lot of freedom and space, which this music is based on, can only exist when the ensemble is as tightly knit as this trio, which of course is extraordinary.

Overall this is a superb Free Jazz album, with modern sound and innovative approach, which is definitely one of the most interesting releases on the Polish scene in 2016, which was a great year for Polish Jazz in every facet of its activity. Obviously highly recommended to all music connoisseurs the world over!
---