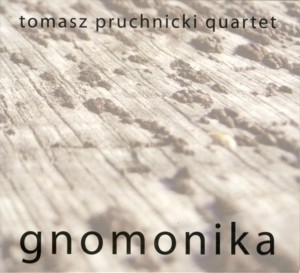 TOMASZ PRUCHNICKI ~ GNOMONIKA
JB 018 (Barcode: 5900308517185) ~ POLAND ~ Jazz-World Fusion
Recorded: 2014
Released: 2015
---
This is the debut album as a leader by Polish Jazz saxophonist Tomasz Pruchnicki

Find albums by this artist

, recorded in a quartet setting with guitarist Marek Kadziela

Find albums by this artist

, bassist Grzegorz Piasecki

Find albums by this artist

and drummer Wojciech Bulinski

Find albums by this artist

. It presents ten selections, five of which are original compositions by Pruchnicki, four are his arrangements of Polish Folk songs and one is a "paraphrase" on a standard.

The music is modern mainstream Jazz, with focus on the re-working of folkloristic themes in a Jazz form, which is a distinct Polish Jazz sub-genre, usually producing very interesting results, like the ones herein . Even in the original compositions by Pruchnicki it is possible to discover some basic Slavic elements and the typical Polish melancholy, which has almost no parallels anywhere else. Overall the level of the music is very high; both as far as the original compositions or the arrangements are concerned, full of stylish melodic and harmonic vistas and aesthetic elegance.

The personal performances are all excellent, with the leader being up front most of the time and the guitar staying respectfully in the background, which works very well for this specific music. In addition to his saxophone parts Pruchnicki also uses very effectively the ocarina, which plays the traditional role of the flute, and adds some electronic effects, which bring the sound of the album up to date. The guitar adds a supportive harmonic layer and manages to fill the space effectively. The rhythm section does a fine job supplying the steady base and supporting the soloists amicably and capably. Some of the rhythmic patterns are quite tricky, but the rhythm section has no trouble taking care of them.

It is a pity we had to wait for so long for the debut album by Pruchnicki, as he definitely has his very personal approach and voice, which is absolutely worth following. This is a very mature, balanced and excellently executed debut album, which hopefully will be followed by more recordings in the not too distant future. In the meantime we can savor this solid and inspired musical offering. Well done indeed!
---