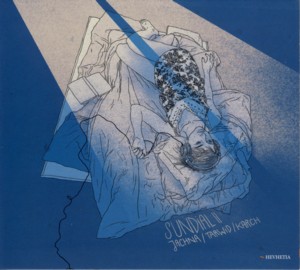 JACHNA / TARWID / KARCH ~ SUNDIAL II
HEVHETIA 0130 (Barcode: 8588005257879) ~ POLAND ~ Jazz
Recorded: 2016
Released: 2016
---
This is the second album by the excellent Polish Jazz trio consisting of trumpeter Wojciech Jachna

Find albums by this artist

, pianist Grzegorz Tarwid

Find albums by this artist

and drummer Albert Karch

Find albums by this artist

. It presents nine original compositions, four of which were composed by Tarwid, two were composed by Karch, one was composed by Jachna, one was co-composed by Jachna and Tarwid and the final one was co-composed by all three members of the trio.

The trio´s previous album, which created quite a stir on the Polish scene when it was released two years earlier, has set an incredibly high hurdle before the musicians to follow up and even more so to further develop their music, with the usual "second album dread" hovering above. I am delighted to say that they did not disappoint and managed very successfully to surmount all the perils.

The main element of this album is the decisive role of the composition, which takes over the role of improvised music, which was the primary modus operandi on the debut album. It becomes very apparent after just a few moments of listening, that this music is carefully composed and structured, which takes it even closer to the contemporary Classical idiom and further away from Jazz, than previously. The music is mostly very serene, relaxed and minimalistic, with prolonged pauses and a vast amount of space between the notes, except for a few highly intensive passages. Tarwid, who is the primary composer this time, plays long solo piano passages, which resemble the characteristic atmosphere of the music by the great French composer Erik Satie

Find albums by this artist

. Jachna almost completely avoids his blistering staccatos and mostly just plays the melody lines and variations. Karch also does not play traditional rhythms, just adds percussive layer to the music, mostly using mallets and playing very modestly. As a trio they are extremely effective, balanced and expressive, using the silence and space as their most efficient tool.

Together the trio creates an amazing amalgam of contemporary music, which simply eschews any simplistic classification. For a lack of a better definition it could be described as belonging to the very liberal and broad definition of the Jazz idiom, but in truth it could be also perceived as a next step in the development of contemporary music. Free yet organized, unconventional yet coherent, composed yet unexpected, this is definitely some of the best music that is being played in Europe these days.

One can only speculate what these young musicians will come up with in the future, but it is pretty sure it will be fresh and intellectually challenging. This level of composition and performance happens only very rarely, even on the European Jazz scene, which is blessed with remarkable quantity of extremely talented young musicians. In the meantime we can enjoy every second if this superb album, filling our hearts with the joy of creation these musicians share with us. Absolutely brilliant!
---