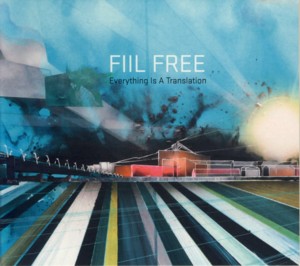 FIIL FREE ~ EVERYTHING IS A TRANSLATION
FILL FREE 0916 (Barcode: 5707471047866) ~ DENMARK ~ Free Jazz / Improvised Music
Recorded: 2016
Released: 2016
---
This is the third album by Danish Jazz pianist / composer Lars Fiil

Find albums by this artist

, this time recorded with an international septet called Fiil Free

Find albums by this artist

, which features also Polish trumpeter Tomasz Dabrowski

Find albums by this artist

, Swedish guitarist Henrik Olsson

Find albums by this artist

and four Danish musicians: saxophonist Henrik Pultz Melbye

Find albums by this artist

, vibraphonist Martin Fabricius

Find albums by this artist

, bassist Casper Nyvang Rask

Find albums by this artist

and drummer Bjorn Heeboll

Find albums by this artist

. Together they perform five original compositions, all by Fiil.

The music is a typical European Free Jazz / Improvised Music endeavor, which in spite of its many degrees of freedom is wonderfully well composed, organized, structured and played, presenting a challenging yet coherent listening experience. The individual compositions develop slowly, starting with single notes or chords, gradually increasing in intensity and complexity, taking the listener on a ride along the process of its development.

All the participants contribute their personal input, playing solo passages, which often are very different from typical Jazz solos, but play in fact a similar role. These young musicians are amongst the finest European improvisers and can be heard on many other recordings. This particular setting is actually very minimalistic and there is little place to show the individual skills in a very expressive way, but this minimalism pushes the players to their limits and makes them to reinvent their performing techniques.

Dabrowski, as usual, plays some stunning passages, proving again that his diversity and talent know no borders, but as already said earlier, this album is not about individual statements, but deals with collective improvisation and cooperative performance.

One of the pieces starts off with the septet playing a swinging Bebop tune, which has a wonderful small Big Band feel about it, but of course it soon disintegrates into Free Form collective improvisation, which is sort of decomposing the initial structured statement, only to return to it at the very end. There are many such wonderful surprises as the music progresses and when it finally ends, one is definitely left with a wish for more.

Overall this album is another proof that the young European Improvising scene is alive and kicking like never before, creating a melting pot of influences between Scandinavian, East and West European cultures, forging a strong Jazz Culture, which hopefully will last for a long time and keep developing in the process. Not to be missed by any Free Jazz fans anywhere in the world!
---