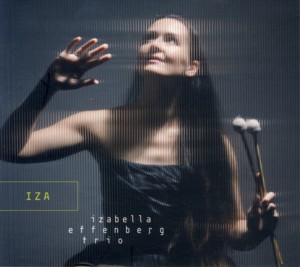 IZABELLA EFFENBERG ~ IZA
UNIT 4730 (Barcode: 7640114797309) ~ POLAND ~ Jazz-Classical Fusion
Recorded: 2016
Released: 2016
---
This is the second album by Polish (resident in Germany) vibraphonist / composer Izabella Effenberg

Find albums by this artist

, recorded in a trio setting with German pianist Jochen Pfister

Find albums by this artist

and Polish (also resident in Germany) drummer Pawel Czubatka

Find albums by this artist

. Vocalist Agnes Lepp

Find albums by this artist

guests on one track. The album presents fifteen original compositions, all by Effenberg.

The intimate trio format seems to be a perfect setting for Effenberg to show her skills as a player, while Pfister and Czubatka support her amicably all the way through. They let the vibraphone to pave the way, providing the harmonic and rhythmic support, which is needed to turn the trio into an ensemble. There is a lot of mutual sympathy and understanding, and the rather difficult format seems to pose no serious obstacles to these excellent musicians.

But the album is also a great opportunity to encounter the superb compositions, which this album presents. They are wonderfully melodic and lyrical, and ideally suited for the vibraphone, which is a difficult and demanding instrument. These compositions are more mature than those on her debut and Effenberg´s progress as a composer is quite evident. She displays typical European sensitivities and harmonic tendencies, which distant her somewhat from the Jazz mainstream tradition, moving more in the direction of contemporary European Jazz. There is even a tendency to open up and introduce more openness and freedom into the music.

This is definitely an impressive follow up to her debut, marking a clear step forward in developing her career, both as an instrumentalist and a composer. Being one of relatively few female vibraphonists, Effenberg definitely starts mo make a mark on the vibraphone scene, which is also completed by her role as an organizer of the Vibraphonissimo Festival in Nuremberg.

As usual I´m already looking forward to hear more of her wonderful compositions and her playing in the near future.
---