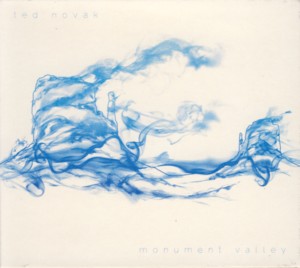 TED NOVAK ~ MONUMENT VALLEY
NOT ON LABEL ~ POLAND ~ Jazz-Rock Fusion
Recorded: 2016
Released: 2016
---
This is the second album by Polish guitarist / composer Ted Novak

Find albums by this artist

, recoded again in a trio setting, but this time with the excellent organist Jan Smoczynski

Find albums by this artist

and drummer Pawel Dobrowolski

Find albums by this artist

. The album was recorded at the legendary Studio Tokarnia, with Smoczynski also filling the sound engineer´s chair. The album presents eight original compositions, all by Novak.

The presence of the organ introduced a very significant change in the trio´s sound and overall musical direction, taking it to a much higher and more sophisticated level. The sound of the trio resembles the wonderful vintage ambience of early Jazz-Rock ensembles, like for example the Graham Bond

Find albums by this artist

band with John McLaughlin

Find albums by this artist

. This is Rock sound with Jazz feeling, one of the most attractive and satisfying of the kind.

Novak has his own guitar sound and touch, which against all odds manages to create a unique voice. Based on the Blues chords and using just the correct amount of sound effects, the guitar becomes the ideal partner to the sublime Hammond sound, and together they are simply magical. Smoczynski is of course a virtuoso and his usage of the Hammond possibilities is marvelous and seems unlimited. In time his playing expands the palette of the sound colors and honestly there are very few, if any, Hammond players is his class today. Dobrowolski, already a veteran of the Polish Jazz scene, is also a master musicians and his wonderful dynamics and sensitivity, both in the Rock and Jazz areas, are ideal for this music in every respect.

As if this wasn´t more then enough to make this album a perfect piece of music, the compositions are the cherry on top. Beautifully melodic, even melancholic at times, they are all perfect vehicles for the trio to tear the roof off, so to speak, and their stylistic, dynamic and rhythmic diversity is an ideal mix, which makes this album to be over in a jiffy. Well in such case it is advised simply to put it on "repeat" of course.

Overall this is a superb, mature, elegant album, full of great music performed with flair and passion, which truly has few equals anywhere on this planet. Jazz-Rock Fusion is alive and kicking in Warsaw, even if it is dead almost everywhere else, with a few exceptions of course. An absolute must!
---