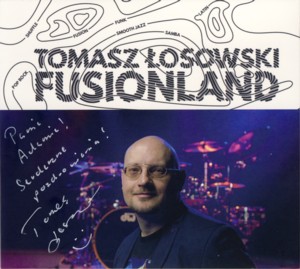 TOMASZ LOSOWSKI ~ FUSIONLAND
SOLITON 501 (Barcode: 590157109501) ~ POLAND ~ Jazz-Rock Fusion
Recorded: 2015
Released: 2016
---
This is the third album as a leader by veteran Polish Jazz drummer Tomasz Losowski

Find albums by this artist

, who is also a member of the excellent Orange Trane

Find albums by this artist

ensemble. Following a straightforward Jazz album released a year earlier, this album returns to the Jazz-Rock Fusion idiom, similar to his debut album recorded thirteen years earlier. The album presents ten original compositions, all by Losowski, recorded with the help of several musician friends in various lineups, which feature Losowski on drums and keyboards.

The music is an excellent collection of melodic Funk / Groove / Fusion tunes, which are all perfectly executed by Losowski and his cohorts. This is definitely "good time" music, which is being presented here with no false pretenses or misconceptions and as such, delivers exactly what is promised to the max. It is great to see Losowski presenting this music proudly and with no inferiority complex, as he can certainly be very happy with the result.

Although the music is oriented towards a wide audience, it is not making any compromises as far as the levels of composition and execution are concerned. The music is full of passion and great harmonic beauty and Losowski delivers superb, often very complex rhythmic support, which is nothing short of virtuosic. Overall this album proves that seemingly simple music can be made with flair and taste and not be an insult to the listener´s intelligence.

For Fusion / Funk fans this is definitely something worth checking out, but this album also sounds great in a car while driving or at home while relaxing with a bottle of cold beer in ones hand. In short, cool stuff!
---