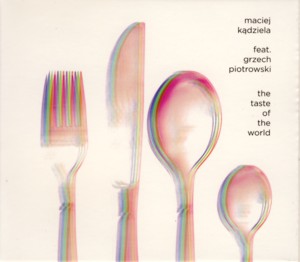 MACIEJ KADZIELA ~ THE TASTE OF THE WORLD
MULTICULTI MPJ 014 (Barcode: 5907796319796) ~ POLAND ~ Jazz
Recorded: 2015
Released: 2016
---
This is the second album by young Polish Jazz saxophonist Maciej Kadziela

Find albums by this artist

, recorded in a quartet setting with pianist Artur Tuznik

Find albums by this artist

and Swedish rhythm section: bassist Johannes Vaht

Find albums by this artist

and drummer Olle Dernevik

Find albums by this artist

. Polish saxophonist Grzech Piotrowski

Find albums by this artist

guests on two tracks. The quartet was formed in Copenhagen, where these musicians studied together at the local Music Academy and summarizes Kadziela´s experiences during his stay in Denmark. The album presents ten original compositions, all by the leader.

The album immediately strikes the listener as a mature and serious offering, which presents Kadziela playing with remarkable fluidity and confidence, completely uncommon among Jazz musicians of his age group. The rest of the quartet members stand shoulder to shoulder with the leader, supporting him amicably and intelligently all the way through. Beautifully lyrical piano by Tuznik, solid and virtuosic bass layer keeping the music on solid ground at all times by Vaht and explosive but always at the right measure percussive ornamentation by Dernevik are an excellent examples of what team work is all about.

The music is typical modern European Jazz, dancing elegantly on the verge of mainstream melodic lines and free vistas, creating a wonderful tension and keeping the listener on edge throughout the entire duration of the album. The melodic layer tends to be filled with typical Polish melancholy, but the energetic performances by the musicians save it from being overtly lethargic. Some Scandinavian elements are also clearly audible, which of course makes perfect sense considering the quartet´s lineup and common history. Some references to the compositions of Krzysztof Komeda

Find albums by this artist

and the playing of John Coltrane

Find albums by this artist

are inevitable, but those are subtle and Kadziela will soon find his very own original voice as a composer and saxophonist.

Overall this is a most impressive album, full of wonderful playing, searching and experimenting, as appropriate for Jazz. Definitely one of the best Polish Jazz releases so far in 2016, and beyond. Hopefully more of such splendid music will follow suit in not too distant future. I can´t wait already!
---