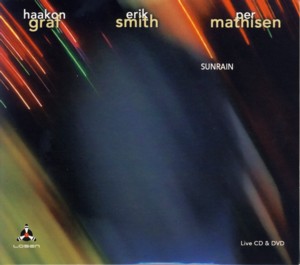 GRAF / SMITH / MATHISEN ~ SUNRAIN
LOSEN 163 (Barcode: 7090025831638) ~ NORWAY ~ Jazz-Funk Fusion
Recorded: 2014
- 2015
Released: 2016
---
This is the debut album by the Norwegian Jazz-Funk Fusion trio led by veteran keyboardist (now living in the US) Haakon Graf

Find albums by this artist

with bass legend Per Mathisen

Find albums by this artist

and drummer Erik Smith

Find albums by this artist

. The live recording presents nine original compositions, all by Graf. The CD is accompanied by a DVD, which presents another live recording of the trio captured six month earlier at the same Oslo club, which includes twelve tunes, also composed by Graf, about half of which also appear on the CD.

Haakon produced many splendid recordings over the years and it is a real pleasure to see (and hear) him again in such splendid form as he is on this album. There is perhaps nothing revolutionary here, as far as Jazz-Funk Fusion is concerned, but the excellent tunes and superb execution are enough to make this album a great fun to listen to. This is the European form of Funk, which is elegant, well behaved and sophisticated, and which differs from the American form mostly emphasizing the Groove and less concerned with the finesse of the tunes and virtuosity of the players. Stylistically this music brings fond memories of the bellowed Brian Auger

Find albums by this artist

, who first developed the European branch of Jazz-Funk Fusion, bringing it to perfection. Graf´s handling of the keyboards is very similar to Auger´s and therefore the apparent similarity, but obviously Graf has his very own voice as is clearly demonstrated herein.

Of course the stellar support Graf gets from his rhythm section brings this album to another level of perfection. Mathisen´s bass solos, especially those on the fretless bass, are spine chilling and he is cementing his position as one of the absolute top European electric bass players. Smith also emerges as a monster player with plenty of opportunities on this album to show his immense talent.

This music might appear as a bit "old fashioned" conceptually, but what the heck – it is absolutely brilliantly played from start to finish and the fact that these three superb musicians play music that stylistically emerged half a Century ago but still sounds fresh and vibrant only proves that good music is absolutely timeless

I had a great time listening to this album and watching the DVD and if you like European Jazz-Funk Fusion and great melodic Jazz, which makes your ass swing, grab this beauty ASAP. Satisfaction guaranteed!
---