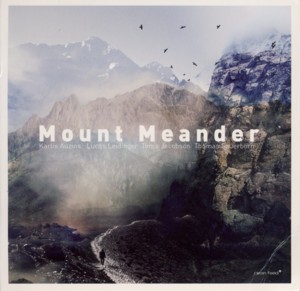 MOUNT MEANDER ~ MOUNT MEANDER
CLEAN FEED 375 (Barcode: 5609063003758) ~ LATVIA ~ Free Jazz / Improvised Music
Recorded: 2015
Released: 2016
---
This is the debut album by a young European Jazz quartet Mount Meander

Find albums by this artist

comprising of musicians from different countries: Latvian saxophonist Karlis Auzins

Find albums by this artist

, German pianist Lucas Leidinger

Find albums by this artist

, Polish bassist Tomo Jacobson

Find albums by this artist

and German drummer Thomas Sauerborn

Find albums by this artist

, who all studied in Copenhagen, Denmark where their paths converged. Together they perform nine pieces, all attributed collectively to the quartet members and recorded during one recording session.

The music offers a solid but fragmented melodic background on occasion, which serves as basis for extended free improvisations. There is a continuous conversation between the quartet members, which helps the music to move forward, although at times it is painfully slow and hesitant. Auzins is taking most of the soloing duty upon his shoulders and his playing is always impressive, similarly to his work on other recordings. Leidinger keeps mostly to the role of accompanist and collaborator. Jacobson plays some very interesting passages, often presented as if on a separate plain from the rest of the quartet. Sauerborn keeps a low key, avoiding rhythmic patterns at all cost but supporting his cohorts with bursts of percussive madness. Overall this music makes sense even though its level of communication with the listeners is very limited. As many Improvised Music creations, this music is a very personal statement with most of its meaningfulness related to the musicians rather than the listeners, which of course is both its blessing and its curse.

The most important thing about this album is the fact that young European musicians make albums like this one today, while the majority of their contemporaries are producing loads of brainless excrement. The sheer personal courage to make a statement, regardless of how it will be accepted by others is the essence.

Personally IŽd love to hear these musicians in a slightly more rigorous setting, since abandoning all rules and regulation so early in life might result at reaching a creative brick wall all too soon.

But all things considered, this is a fine debut effort and hopefully more will be heard of these young Jazz heralds in the future.
---