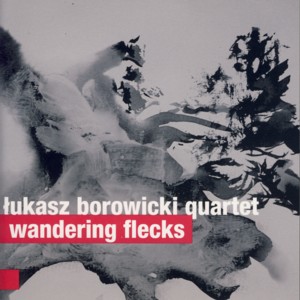 LUKASZ BOROWICKI ~ WANDERING FLECKS
FOR TUNE 0095 (Barcode: 5902768701937) ~ POLAND ~ Jazz
Recorded: 2015
Released: 2016
---
This is the second album by young Polish Jazz guitarist Lukasz Borowicki

Find albums by this artist

. Following the debut album recorded in a trio format, this album presents a quartet effort, with Danish flugelhornist Mads la Cour

Find albums by this artist

and Polish bassist Mariusz Prasniewski

Find albums by this artist

(who also appears on the debut) and drummer Karol Domanski

Find albums by this artist

. The album includes ten original compositions, eight of which are by Borowicki and two are improvisations credited to the quartet members.

In contrast to the debut, this album is much more relaxed and organized, probably since there is no pressure to prove anything this time. The compositions are lyrical and much closer to the European Jazz idiom, with breathing space and freedom being the most important ingredients in addition of course to the personal abilities of the participants. The addition of the flugelhorn expanded the ensemble´s possibilities considerably and Borowicki could have hardly find a better partner for his musical explorations that the amazing Dane, who has caught my ear already and who is definitely worth following carefully.

The quartet is very tight together, which is quite remarkable considering the complex, both harmonically and rhythmically, music they perform. The rhythm section truly supports the soloists as well as builds up the platform on which the entire structure securely advances in time. As the result the instrumental work is nothing short of amazing. It is hard to believe that this album was recorded by such young musicians.

Borowicki also presents an impressive compositional palette and the overall level of his tunes is very notable. His compositions serve as ideal vehicles for the musicians to play their best. The interplay between the guitar and the trumpet is especially exciting, as are their respective solo parts. Both Borowicki and la Cour have a distinctive sound and approach and on this album they simply complete each other perfectly.

It is a joyful feeling to hear music of such quality, especially when it comes from musicians who are at early stages of their careers. The maturity and talents displayed here are all exemplary. As a result this is another great album released by the For Tune label, and certainly one of the strongest releases this year on the Polish Jazz scene. Congratulations!
---