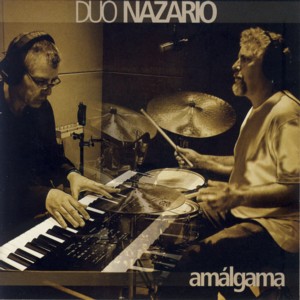 DUO NAZARIO ~ AMÁLGAMA
UTOPIA 006 ~ BRAZIL ~ Jazz-Rock-World Fusion
Recorded: 2013
Released: 2014
---
This is a fantastic album by the Brazilian Duo Nazario

Find albums by this artist

consisting of brothers: drummer Zé Eduardo Nazario

Find albums by this artist

and keyboardist Lelo Nazario

Find albums by this artist

. Nazario Brothers are great pioneers on Brazilian Jazz-World Fusion, Jazz-Rock Fusion and Progressive Rock and in the past they were instrumental in creating modern Brazilian music as founders of the legendary Grupo Um

Find albums by this artist

, members of the group Pau Brasil

Find albums by this artist

and members of the groups led by the legendary Hermeto Pascoal

Find albums by this artist

, and more recently founders and co-leaders of the group Percussônica

Find albums by this artist

. This album presents some re-workings of older material and newly composed pieces, all performed by the duo. All of the music is original and of the eleven compositions nine are by Lelo Nazario, one is by Zé Eduardo Nazario and one is co-composed by them both.

The music, as duly named in the album´s title, is an amalgam of many influences, combined with Brazilian melodic themes and Afro-Brazilian rhythmic patterns, which has been the modus operandi of the Nazario Brothers since many years. Lelo Nazario is a brilliant keyboardist and he creates multi-layered melodic themes, which always have that specific Brazilian tinge. Zé Eduardo Nazario adds his polyrhythmic percussion, which drives the music formidably and displays the rhythmic affluence of Brazilian music. Together they sound like a full ensemble, in spite of the fact that there are just two musicians behind all this kaleidoscope of sounds.

This album, like all the albums created by the Nazario Brothers, is a formidable example of multiculti music at its best. It respects the melodic and harmonic tradition of European music as much as the Brazilian rhythmic tradition and manages to combine the two in the most effective way. It is worth of being studied as a classic example of what Jazz-World Fusion is all about.

I have been following the work of the Nazario Brothers for decades and always found it to be exemplary. It is a pity they are little known outside their country, as they deserve truly a much wider recognition. For followers of Jazz-World and Jazz-Rock Fusion this album and anything else of their work one can find is absolutely worth getting. So make an effort and grab it. Thanks Zé Eduardo and Lelo for being out there!
---