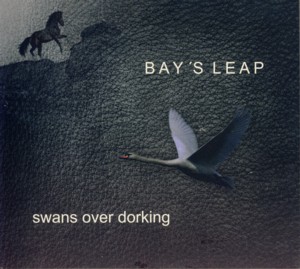 BAY`S LEAP ~ SWANS OVER DORKING
CITYSTREAM 00108 (Barcode: 190394439620) ~ UK ~ Free Jazz / Improvised Music
Recorded: 2016
Released: 2016
---
This is the debut album by the British Improvised Music trio Bay`s Leap

Find albums by this artist

comprising of clarinetist Noel Taylor

Find albums by this artist

, pianist Clare Simmonds

Find albums by this artist

and cellist James Barralet

Find albums by this artist

. Together they present eleven pieces, all of which are spontaneous improvised compositions by the trio members.

The music, although improvised, sounds mostly like contemporary Classical chamber music, but obviously presents also elements of Avant Garde on one hand and melodic substance on the other hand. Listeners familiar with earlier work by Taylor will recognize the ambience of classical sounding Improvised Music, which he presented on his earlier recordings with Splatter

Find albums by this artist

.

The intimate setting of an acoustic trio suits this music perfectly, with each note and the silence between the notes being equally important. The level of interplay between the musicians is truly amazing and often it is difficult to believe that this music was spontaneously created, as it sounds remarkably well coordinated. The trio members toss the ideas between themselves with collective improvisations changing into personal solo parts being "accompanied" by the others; all this is a blink of an eye.

Improvised music is often harsh and chaotic, making it almost impossible to be listened to by listeners with no experience with the Avant Garde. The beauty of this music is, among other things, its accessibility to a relatively wide audience, without any compromise as to its aesthetic and artistic valor. It is good to see that the British tradition of Improvised Music is alive and kicking in spite of the harsh conditions surrounding creativity and individualism.

I can only recommend this wonderful album to all true music connoisseurs, regardless of their default musical inclinations. This music is able to penetrate the barriers of unfamiliarity and outlandishness by sheer power of its beauty and unadulterated ingenuity. Well done indeed!
---