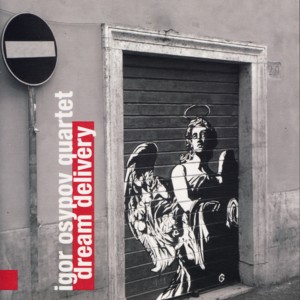 IGOR OSYPOV ~ DREAM DELIVERY
FOR TUNE 0091 (Barcode: 5902768701920) ~ UKRAINE ~ Jazz
Recorded: 2015
Released: 2016
---
This is the second album by Ukrainian (resident in Berlin) guitarist / composer Igor Osypov

Find albums by this artist

recorded in a quartet setting with German saxophonist Wanja Slavin

Find albums by this artist

, Polish bassist Max Mucha

Find albums by this artist

and German drummer Moritz Baumgartner

Find albums by this artist

. The album presents eight tunes (one is repeated twice in different versions), six of which are original compositions by Osypov and two are co-credited to all four members of the quartet.

The music is floating somewhere between mainstream Jazz and Fusion, dominated mostly by guitar sounds. The compositions are stylistically diverse, and somehow lack a coherent direction, and as a result the album sounds confusing and uninviting. The musicians are much more professional this time than those on Osipov´s debut album, but sadly their abilities are not potent enough to save this album from the fate of its predecessor.

Slavin is a formidable player and his parts are absolutely stunning, but Osipov´s guitar, which sounds out of tune all the time, really stands in the way to enjoy them. Mucha and Baumgartner try their best to keep this music together and often play some wonderful parts, but alas again not being able to save the overall result.

I am sorry that for the second time Osipov´s playing is simply painful to my ears. I tried my best to approach this album without predetermination, but alas I failed again to discover its beauty. As cruel as it might sound, I think that this music with the guitar parts removed could produce a great trio album.
---