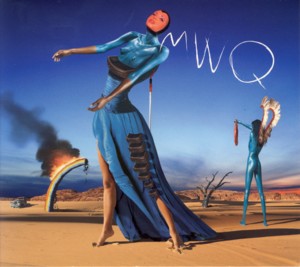 MACIEK WOJCIESZUK ~ MWQ
SJ 014 ~ POLAND ~ Jazz
Recorded: 2015
Released: 2016
---
This is the debut album by the young Polish Jazz quintet led by drummer Maciek Wojcieszuk

Find albums by this artist

, which also includes trumpeter Pawel Palcowski

Find albums by this artist

, saxophonist Kuba Lepa

Find albums by this artist

, pianist Paulina Atmanska

Find albums by this artist

and bassist Adam Tadel

Find albums by this artist

. Together they perform seven original compositions (presumably by the leader), while the album´s packaging gives no information whatsoever as to the authors of these compositions, which is careless not to mention unwise.

The music is all pretty conventional, well within the Jazz mainstream and the Bebop tradition. The compositions are solid and mature, serving the quintet members well as vehicles for their ensemble parts and their individual solos. Considering the age of these musicians, this is definitely a very fitting display of their talents. The personal abilities of the quintet members might be a bit hesitant at times, but show a lot of promise, and again considering that these are their early professional steps, they deserve a lenient criticism.

It is difficult to point out anyone specific from the quintet´s lineup, as they all perform formidably. Personally I think Atmanska stands out due to her unusual approach to the piano, which uses hard vamping a la McCoy Tyner

Find albums by this artist

and displays more freedom in her playing than her colleagues. Tadel also deserves a special mention, as his sold bass lines and beautiful solos are some of the album´s highlights. But again this album is overall an impressive debut, which can make the leader and his cohorts proud of themselves. The sound quality of the album, recorded at the excellent RecPublica Studios and engineered by Maciej Stach

Find albums by this artist

is another of this album´s strong points.

Since I had the opportunity to hear these young musicians during their studies at the Jazz Department of the Katowice Music Academy, I am not surprised by their abilities, a phenomenon which characterizes the students at all the Polish Music Academies, where a young generation of Polish Jazz musicians is currently being groomed. The amount of talent among these young musicians is simply staggering, thus making sure that Polish Jazz is destined to flourish in the future as much as it does already now. Definitely an album worth investigating!
---