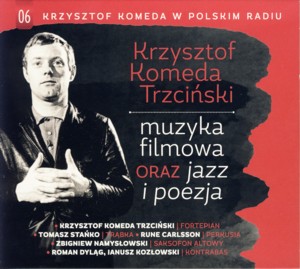 KRZYSZTOF KOMEDA ~ KRZYSZTOF KOMEDA W POLSKIM RADIU VOL.06 – MUZYKA FILMOWA ORAZ JAZZ I POEZJA
POLSKIE RADIO 1938 (Barcode: 5907812249380) ~ POLAND ~ Jazz
Recorded: 1965
- 1967
Released: 2016
---
This is the sixth installment in a new series of albums launched by the Polish Radio, which presents radio recordings by the Godfather of Polish Jazz, pianist / composer / bandleader Krzysztof Komeda

Find albums by this artist

. Komeda is of course the most familiar name associated with Polish Jazz and his legacy is of crucial importance to Polish and European Jazz. Considering the fact that Komeda´s studio recordings are relatively scarce, the radio recordings are in fact the main source of his recorded legacy, as they include among others the Jazz Jamboree festival appearances by Komeda and his various ensembles over the years.

The first part of the music included here originates in the Polish Radio recording session from 1967, which presents the Komeda Quintet with trumpeter Tomasz Stanko

Find albums by this artist

, saxophonist Zbigniew Namyslowski

Find albums by this artist

, bassist Roman Dylag

Find albums by this artist

and Swedish drummer Rune Carlsson

Find albums by this artist

. The quintet performs four original Komeda compositions. The second part was recorded live during the 1965 Jazz Jamboree Festival and features the Komeda Quartet with Stanko, bassist Janusz Kozlowski

Find albums by this artist

and Carlsson. The quartet performs two original Komeda compositions. Three of the quintet tracks can be associated with the Polish Jazz & Poetry movement, the last quintet track and the first quartet track are both examples of cinematic music Komeda created for movie soundtracks and the last bonus track is a live performance of Komeda´s most famous tune "Astigmatic", which gave the title to his groundbreaking debut album.

The Komeda Quintet present on this album recorded an entire album in the Jazz & Poetry idiom, which was produced by the legendary Joachim Berendt. That album called "Meine Susse Europaische Heimat

Find albums with this title

" was released in West Germany and became in time one of the most iconic Jazz & Poetry recordings in Polish and European Jazz. All of the music on this album is of course some of the most prophetic and revolutionary European Jazz ever recorded, and as such deserves to be a part of every decent music library on this planet.

The recordings are splendidly restored and remastered and nicely packaged in an elegant digipak / slipcase. Dates, places and lineups are faithfully included and even personal liner notes by Polish Jazz critic Roch Sicinski

Find albums by this artist

are present, but there is no in-depth background material about Komeda and his music, however considering the plentitude of published material and several excellent books on the subject, an intelligent listener can easily bridge the knowledge gap. The only small reservation one might have is the fact that these recordings have been already released many times, more or less legally on the somewhat untamed Polish music market, which means they is already owned by the serious Polish Jazz collectors, probably more than once.
---