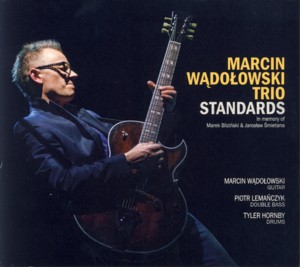 MARCIN WADOLOWSKI ~ STANDARDS
SOLITON 517 (Barcode: 5901571095172) ~ POLAND ~ Jazz
Recorded: 2016
Released: 2016
---
This is the fourth album by Polish guitarist Marcin Wadolowski

Find albums by this artist

, recoded in an intimate trio setting with the superb Polish Jazz bassist Piotr Lemanczyk

Find albums by this artist

and Canadian Drummer Tyler Hornby

Find albums by this artist

. The trio performs ten Jazz standards, three of which are by John Coltrane

Find albums by this artist

and two by Miles Davis

Find albums by this artist

. The album is dedicated to the two great Masters of Polish Jazz guitar: Marek Blizinski

Find albums by this artist

and Jaroslaw Smietana

Find albums by this artist

, both sadly no longer with us.

Previous recordings by Wadolowski flirted with Jazz to some extent, but this one presents him for the first time as a bona fide Jazz player. The delicate arrangements, the careful selection of the tunes and their wonderful execution are all kept within the strict Jazz idiom, shearing away all the Blues-Rock or Fusion elements present on his older recordings. The transformation is quite remarkable.

Wadolowski´s approach is very minimalistic and remarkably clean. The music is kept low key, almost acoustic, in order to emphasize every single note and chord, which thanks to the excellent recording quality are all perfectly audible. The guitar plays long beautifully structured solos, often introducing the tunes alone before the bass and drums join in. Even when the whole trio plays together, the music is still very unobtrusive and deliberately constrained. A wonderful atmosphere of relaxation and contemplation is present through out the entire duration of the music.

As expected, Lemanczyk plays superbly, both as an accompanist and during his solos, which are all pearls of bass perfection. Although rarely in the limelight, he is definitely one of the absolute top Polish Jazz bass players and every album he plays on is enhanced by his fantastic contributions.

Hornby keeps his involvement in these proceedings to bare minimum which is exactly what is required in such circumstances. His delicate drum parts stay in the background, keeping the rhythm rolling gently. Drummers who don´t try to dominate a recording session are a rare find and he is to be congratulated for his attitude.

Overall this is a wonderful album from start to finish: fascinating guitar licks, breathtaking bass solos, superb selection of tunes and innovative nontrivial arrangements make it a brilliant listening experience. Yes it´s mainstream and yes these are standards – this is exactly what was supposed to happen here and the result speaks for itself.

In retrospect I am very glad Wadolowski recorded this album and proved his versatility and his skills as a player to all those who dismissed him in the past. This is definitely one of the finest Polish Jazz guitar albums ever recorded and a solid tribute to the past Masters. Hats off!
---