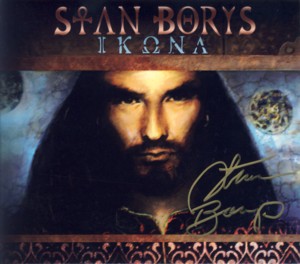 STAN BORYS ~ IKONA
POMATON 825646281428 (Barcode: 825646281428) ~ POLAND ~ Sung Poetry
Recorded: 2014
Released: 2014
---
This is an album by veteran Polish vocalist / songwriter / poet Stan Borys

Find albums by this artist

, which presents eleven beautiful songs, performed by Borys, who in spite of his age seems to be completely untouched by time and displays his usual extraordinary charisma and artistic ability. Borys wrote the music of two songs present here and the lyrics of four others. On the other songs Borys uses mostly poems written by Polish poets such as Adam Mickiewicz

Find albums by this artist

, Agnieszka Osiecka

Find albums by this artist

, Bogdan Loebl

Find albums by this artist

and others. The album was recorded in different studios in Poland and US and features different musicians, but presents a very consistent and tight contemporary sound and features excellent musicianship and polished production. Some of the songs are new arrangements of older songs by Borys and others make their debut on this album.

As usual with Borys, he manages to achieve the best possible balance between excellent melodic themes and intelligent, moving lyrics, consistent with the uniquely Polish "Sung Poetry" idiom. Therefore the album stands above almost everything else recorded today on the Polish market in the Pop / Rock category, which sadly, as everywhere else in the world, is characterized by trivial music and moronic lyrics. Sadly for Borys and fans of quality music, such albums are completely ignored by the media, which seems to concentrate on turning the young generation into cultural zombies.

Although this album presents, as already mentioned, a contemporary sound and production characteristics, musically it belongs to the Rock music, which ruled the world in the 1960s and 1970s, i.e. the "Golden Decade", when writing a song meant that the songwriter has something to say, both musically and ideologically. Therefore this music might have been written five decades ago, or from a different perspective preserves the quality of songwriting established then and now sadly forgotten. Each of the songs on this album has a solid melody, a memorable riff and tells a story with a moral. If we didn´t know better, Borys sounds five decades younger that his chronological age, which can be said about only a handful of other vocalist from that period who still perform today. How he does it is a miracle.

Although the Polish lyrics limit the exposure of this album mostly to the Polish scene, many international listeners should be able to enjoy it, even those who are not Polish speakers. Great music is able to transcend language barriers, and this album is one of those rare universal creations. This album also proves that veteran artists should not by a priori dismissed and some of them definitely preserve the ability to stay contemporary and often shoe the young artists how great music is made.

Albums like this one keep the faith that not everything is lost in Pop / Rock, and excellent contemporary music is possible, even if it has to be made by Masters, who already served the Art for many generations. A true gem!
---