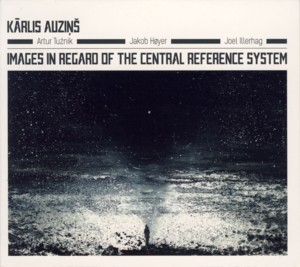 KARLIS AUZINS ~ IMAGES IN REGARD OF THE CENTRAL REFERENCE SYSTEM
NOT ON LABEL (Barcode: 5707471046197) ~ LATVIA ~ Jazz
Recorded: 2015
Released: 2016
---
This is the debut album by Latvian saxophonist / composer Karlis Auzins

Find albums by this artist

, recorded with a quartet which also includes Polish pianist Artur Tuznik

Find albums by this artist

, Swedish bassist Joel Illerhag

Find albums by this artist

and Danish drummer Jakob Hoyer

Find albums by this artist

. The album presents eight original compositions, all by Auzins.

The music is characteristic of the modern contemporary European Jazz, based on folkloristic themes and lyrical melodies, but also allowing a lot of space for improvisation and personal explorations by the quartet members. At times the music moves away from the melodic layer and ventures into Free improvisations, but usually just for relatively limited spans, which allows less experienced listeners to remain in focus and pick up the melody later on.

Auzins emerges as a surprisingly mature improviser, who is able to play a solo soprano saxophone piece lasting for almost five minutes without a hitch, with outstanding virtuosity and imagination. But his performances with the quartet are also superb and he manages to create a unique sound, which is extremely rare these days. He also plays some amazing unisono parts with the piano and the bowed bass. Tuznik also plays wonderfully, both as a soloist and accompanist, exchanging intricate notes with Auzins during their many duet statements as well as stretching out during his solos. The rhythm section, which on this album stays mostly in the background, hidden beneath the intensity of the saxophone / piano front line, contributes its valuable parts when allowed to do so and as expected does it admirably. This ability to step aside is most appreciated and does not diminish the status of the rhythm section at all. The music simply organically opens up for a rhythm section contribution whenever those are appropriate.

The music definitely belongs to the Scandinavian or rather Baltic tonality, with most of the tunes being low key and low tempo, and contemplation and slow progression are the key ingredients. The fact that the quartet comprises of young musicians from four different countries is the decisive proof that European Jazz is enjoying and incredible renaissance and a new generation of highly talented musicians is emerging, blessed by sublime talents.

This is definitely a most impressive debut recording, which emotionally reminds me of the moments in 1960s when Jazz first broke its ties with bebop tradition and moved into a new epoch. Now, five decades later, this beloved music of ours is still making giant steps into the unknown. Hats off, young Lions!
---