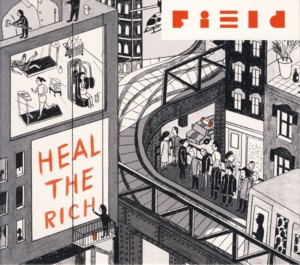 FIELD ~ HEAL THE RICH
WHYPLAYJAZZ 026 (Barcode: 4250459990360) ~ GERMANY ~ Jazz
Recorded: 2015
Released: 2016
---
This is the second album by the German Field

Find albums by this artist

quartet, led by saxophonist / composer Uli Kempendorff

Find albums by this artist

, which also includes guitarist Ronny Graupe

Find albums by this artist

, Danish bassist Jonas Westergaard

Find albums by this artist

and drummer Oliver Steidle

Find albums by this artist

. The album presents seven original compositions (one repeated twice), all by Kempendorff.

The music is a vibrant and excellent example of contemporary European Jazz, which offers superb musicianship and intriguing contents bundled in an attractive albeit challenging exterior. Based on composed themes, the music tends to shift towards collective improvisation, which becomes very intensive at its apex, but retains an internal organization saving it from crossing over to chaos.

The saxophone and the guitar exchange rapid licks between them on the up tempo swinging tunes, with the rhythm section supporting the soloist admirably. As usual the bass keeps the rhythm flow and the drums play around, often polyrhythmically. The more introvert pieces are also excellent, featuring much more expressive soloing by the leader and a laid back rhythm section, creating an atmosphere somewhat similar to the Scandinavian sound.

Overall this is a very solid statement by excellent musicians, who know exactly how to express their ideas and how to play in ensemble setting, sharing responsibilities and inspiring each other. The atmosphere may sound cold and alienated at first, but in time the listener is drawn into the internal universe these musicians create.

This album joins the rest of the catalogue offered by the excellent WhyPlayJazz

Find albums on this label

label, proudly representing new European Jazz created by young and upcoming musicians, which clearly points to the fact that this is where Jazz is at these days.
---