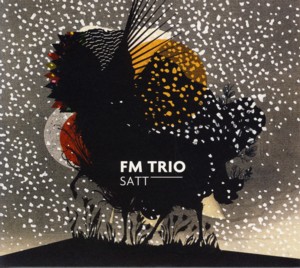 FM TRIO ~ SATT
WHYPLAYJAZZ 025 (Barcode: 4250459990339) ~ SWITZERLAND ~ Free Jazz / Improvised Music
Recorded: 2015
Released: 2016
---
This is the fourth album by the Swiss piano trio FM Trio

Find albums by this artist

, which consists of pianist Fabian M. Mueller

Find albums by this artist

, bassist Kaspar von Grunigen

Find albums by this artist

and drummer Fabian Burgi

Find albums by this artist

. Together they perform ten original compositions, five by von Grunigen, three by Mueller, one by Burgi and the final one co-composed by all three members of the trio.

The music is a blend of several modern Jazz elements, from melodic pieces to Improvised Music explorations, which characterizes many of contemporary young European ensembles, who are still trying to explore the boundaries of the Jazz idiom. From the very onset of the album it becomes clear that this is not a typical piano trio album where the piano stands in the center of the listener´s attention. This trio equalizes the position of all three instruments to the same level, sharing the music-making responsibility equally.

Another characteristic of this music is the fragmentation of the melodic elements info small pieces, which are than interposed over a polyrhythmic layer created by the bass and drums. This means that the flow of the music is often dictated by the bass lines rather than by the piano lines, which are often uneven and episodic. This technique makes this music less immediately approachable but adds an element of tension and suspense, elevating the overall depth and impact of the music.

It is heartwarming to hear young musicians playing nontrivial music, sometimes even very difficult music, simply because they believe that this is their unique way to express their Art. These musicians are obviously very skilled and able to play basically anything, and yet they chose to challenge and stimulate rather than superficially please the listener.

This album requires perhaps several listening sessions to discover its full depth and intrinsic beauty, but the effort is definitely worth it. Kudos is due again to the WhyPlayJazz

Find albums on this label

label for releasing this meaningful and obviously noncommercial music, as usual against all odds, following the prophetic understanding that such demonstration of human ingenuity deserves to be shared, even just among a handful of open-minded and intellectually stimulated individuals all over the world. One can only hope that eventually this music manages to reach as many listeners as it truly deserves.
---