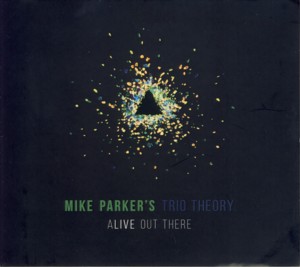 MIKE PARKER / TRIO THEORY ~ ALIVE OUT THERE
NOT ON LABEL ~ USA ~ Free Jazz / Improvised Music
Recorded: 2015
Released: 2016
---
This is the third album by American bassist / composer Mike Parker

Find albums by this artist

, who spends much of his time in Eastern Europe playing and recording with Polish Jazz musicians, as documented on his previous album. This album, recorded live in Czech Republic and Serbia, documents a tour by Parker´s trio, which also includes Polish Jazz saxophonist Slawomir Pezda

Find albums by this artist

and American (resident in Poland) drummer Frank Parker

Find albums by this artist

. Together they perform six compositions, four by Mike Parker

Find albums by this artist

, one co-composed by him and Bartlomiej Prucnal

Find albums by this artist

and one composed by Bryson Barnes

Find albums by this artist

.

The music is mostly improvised, except for short melodic intros which immediately develop into a frantic Free Form extended blowing sessions. Pezda, who is definitely one of the most impressive young Lions among the Polish Jazz saxophone players, performs incredibly on this album; even more remarkably than on several earlier recordings he participated in. The intimate setting and the live atmosphere, as well as the excellent work of the rhythm section, allow him to soar and shine, which he does from start to finish.

But of course this is a trio effort and the overall result is successful thanks to the interplay and mutual respect these three players share among them. Saxophone trios are an extremely difficult environment to create impressive music, but this trio is definitely blessed with the ability to make it work. If course Parker´s music also adds to the success of this music.

Although seemingly aggressive and certainly very intensive, this music displays a lot of elegance and intrinsic beauty. The "beast" is definitely tamed and the improvisations and far out excursions are apparently well planed ahead. The wonderful tension between the intensity of this music and its underlying structure is one of the strongest assets.

This is definitely one of the strongest statements I have had the pleasure to listen to in the last months and it truly deserves to be discovered by as many Jazz lovers as possible.

A strange thought passed through my head; since this great album was created by two American practically living in Poland and a Pole, playing in Eastern Europe, perhaps the only way to save American Jazz before it disintegrates completely is to move it to Eastern Europe?
---