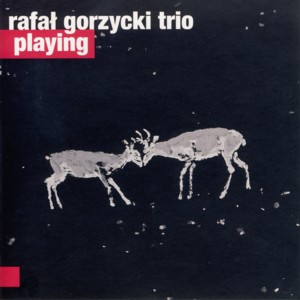 RAFAL GORZYCKI ~ PLAYING
FOR TUNE 0088 (Barcode: 5902768701951) ~ POLAND ~ Jazz-Rock Fusion
Recorded: 2015
Released: 2016
---
This is an album by Polish Jazz drummer / composer / bandleader Rafal Gorzycki

Find albums by this artist

, one of the most prolific, diverse and always unpredictable figures on the local scene. This time he presents a trio, which also includes guitarist Marek Malinowski

Find albums by this artist

and electric bassist Wojciech Wozniak

Find albums by this artist

, and which performs ten tracks entitled simply "Playing" part 1 to part 10, two of which were composed by Gorzycki, four were co-composed by all three trio members and four more were co-composed by the previous lineup of the trio which included bassist Patryk Weclawek

Find albums by this artist

.

The sound on an electric guitar trio immediately invokes associations with Jazz-Rock Fusion, and indeed this music has very close ties with Fusion, but encompasses a much wider stylistic variety than simply Fusion, including Improvised Music, Ambient and contemporary Chamber Music. With Gorzycki at the helm, this is hardly surprising, as his extensive recording legacy is characterized by its diversity and cross-genre explorations.

Although pre-composed and melody based to some extent, this music includes a lot of space and freedom, which allows for very creative playing by the trio members, which they use liberally; but in spite of all that freedom, the music remains quite "well behaved" most of the time, which makes it accessible to a wide range of listeners. Creating music of such intrinsic beauty and highly aesthetic value and yet making it sound "simple" is a real artistry, and Gorzycki deserves praise for managing to achieving such result.

Malinowski, who released his debut album as a leader ("Alone

Find albums with this title

") a year earlier, emerges as one of the most interesting new hopes of the Polish Jazz guitar players. His open and clean sound, which uses (almost) no electronic trickery, is very impressive and quite unique today in its straightforwardness. In many respects it brings back fond memories of the early Fusion days, when players like John McLaughlin

Find albums by this artist

were using a very similar sonic approach.

Wozniak, who has some past Fusion ties as well, plays very skillfully and precisely, which is exactly what is expected of him in this setting. He plays a cool "walking" pulsations when the music swings and atmospheric prolonged phrases when it moves into a more ambient environment. This modesty and respect towards ones partners is a most formidable quality in a musician.

Gorzycki is of course a Master drummer, a fact which requires no reinforcements, and indeed he plays very sparingly, cooperatively and relatively straightforwardly on this album, which is a very wise decision. When the music requires his input, he is always there and always at his best, but overall his playing on this album is primarily a part of the collective effort rather than claiming the role of a leader.

The album was excellently recorded at the RecPublica Studios and engineered by Lukasz Olejarczyk

Find albums by this artist

, and offers a superb sonic quality, which will make high-end Hi-Fi enthusiasts extremely happy. But overall it is definitely one of the best Polish Jazz albums released so far in 2016, and hopefully will reach a wide circle of music lovers, as it is definitely capable of capturing the hearts of very many connoisseurs anywhere in the world. Respect!
---