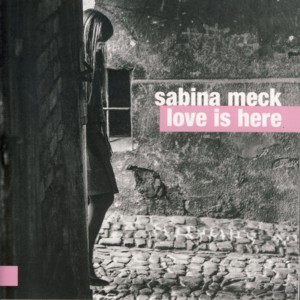 SABINA MECK ~ LOVE IS HERE
FOR TUNE 0090 (Barcode: 5902768701821) ~ POLAND ~ Jazz
Recorded: 2014
- 2015
Released: 2016
---
The new generation of Polish Jazz musicians, which swept the local scene like a tsunami with the onset on the 21st Century, produced a staggering number of superb instrumentalists: trumpeters, saxophonists, pianists, bassists and drummers, but sadly almost no significant discoveries in vocal Jazz arrived on the scene, with just a very few exceptions.

There are many possible explanations why this has happened: the crisis in the vocal Jazz idiom in general, the fact that vocalists born in Poland are not native English speakers, yet they tenaciously insist on singing in English even when it works against them, and most importantly the fact that the human voice is not only the most beautiful and limitless instrument, but also the most difficult one.

Therefore listening to this album by the young Sabina Meck

Find albums by this artist

(a.k.a. Sabina Myrczek

Find albums by this artist

) one can finally release a sigh of relief saying "it´s finally happening". Not only does she sing fabulously but she also wrote all the music and the lyrics on this album, which is almost too good to be true. The whole thing sounds like a classic vocal Jazz album, featuring a set of carefully selected standards; anything but a debut album.

Meck selected the accompaniment of a classic piano trio, which is classy, elegant and minimalistic, but also incredibly bold. There is no electric trickery to hide imperfection, but there is a challenging need to combine forces with the trio members at all times. The trio´s performance is by all means as spectacular in every respect as the vocals. The upcoming and still very young Aga Derlak

Find albums by this artist

on piano is absolutely brilliant as an accompanist and together with the singer they are in a perfect Ying and Yang harmony. The rhythm section, bassist Franciszek Pospieszalski

Find albums by this artist

and drummer Bartosz Szablowski

Find albums by this artist

, adds its support amicably and very skillfully, with nothing short of flawlessness.

The insiders of the Polish Jazz scene will of course notice immediately that Sabina Meck is the sister of the incredibly talented vocalist Wojciech Myrczek

Find albums by this artist

. It will be completely unfair to treat her just as "the sister of", since although she shares with her brother the gene pool of the highly gifted Myrczek clan, this album proves that she is a greatly talented Artist in her own right.

Hopefully this is just the first of many wondrous albums to come. You've got it, my Fair Lady; you certainly have got what it takes!
---
Side Note
---
The above are my liner notes included on this album's artwork.

I am honored when asked by the Artists to write liner notes for their albums, always hoping that my words reflect the true spirit of the music. This is also a symbol of our mutual respect and friendship developed over the years.

The same is also true when Record Labels ask me to write liner notes for their releases, mostly in the case of reissues of archival albums, which is a symbol of their appreciation of my knowledge and historical perspective and my recognition of their dedication to the preservation of the history of recorded music and the effort to keep human Culture and Aesthetics alive.
---