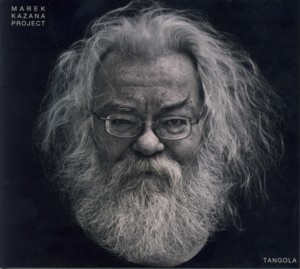 MAREK KAZANA PROJECT ~ TANGOLA
NOT ON LABEL (Barcode: 5903292105253) ~ POLAND ~ Jazz
Recorded: 2012
Released: 2013
---
This is the debut album as a leader by Polish Jazz saxophonist Marek Kazana

Find albums by this artist

, recorded in a quartet setting with saxophonist Tomasz Licak

Find albums by this artist

, bassist Marek Mac

Find albums by this artist

and drummer Grzegorz Grzyb

Find albums by this artist

. The album was recorded "live in the studio" in Radio Szczecin and presents ten original compositions (the title track is repeated twice opening and closing the album), three of which were composed by Kazana and seven are credited to all four quartet members and are largely improvised.

Kazana is relatively little known on the Polish scene, which is a price many musicians pay when choosing the unbeaten path of individuality, usually in the Free Jazz / Improvised Music idiom. Although he was a member of two seminal Polish Jazz ensembles in the 1980s: Young Power and Free Cooperation and participated in quite a few recordings, his remains almost anonymous and recorded this debut album as a leader only in 2012. The fact that he resides relatively far away from the Polish Jazz centers is probably another reason for the lack of his exposure.

The music played by the quartet is definitely part of the Free Jazz idiom, but surprisingly it is quite accessible, preserving melodic motifs and natural flow on one side and a feeling of rhythmic swing on the other, which enable even a less experienced / radical listeners to enjoy this music with relative ease.

The individual statements by the participants are all impressive. The young and well schooled Licak plays with confidence and balances Kazana´s less groomed approach. Mac glues the music together with his powerful bass lines and Grzyb, who originates from much more conventional circles, adds a barrage of percussion, which at times is a bit over the top, but overall fits the bill quite well.

In general this is a very interesting recording which deserves to be heard well beyond its niche image. Of course it is also a well deserved achievement by Kazana, who certainly should be better known and recognized for his contributions to the Polish Jazz scene. Recommended!
---