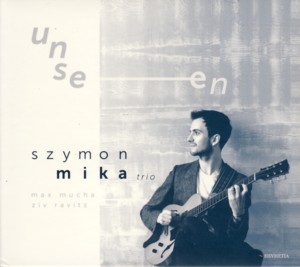 SZYMON MIKA ~ UNSEEN
HEVHETIA 0122 (Barcode: 8588005257770) ~ POLAND ~ Jazz
Recorded: 2015
Released: 2016
---
This is the debut album as a leader by Polish Jazz guitarist / composer Szymon Mika

Find albums by this artist

, one of the prominent representatives of the young generation of the Polish Jazz scene. It was recorded in an intimate trio setting with bassist Max Mucha

Find albums by this artist

and Israeli drummer Ziv Ravitz

Find albums by this artist

. The album presents nine tracks with five original compositions by Mika (the opening and closing track are versions of the title track) and three standards.

The fact that Mika is an exceptionally gifted guitarist becomes immediately apparent and the excellent level of musicianship continues until the very last notes. The music is kept well within the Modern mainstream, with no attempts to venture into the Free territory. The themes are clearly melodic and Mika plays brilliantly and although he improvises extensively he makes an effort to stay within the boundaries. This might be limiting in a long range, but luckily his partners contribute some amazingly supportive and elaborate musical structures, which carry the music forward at all times and sound truly refreshing.

Mucha is also a superb player and his solid bass lines provide a safe foundation for the trio to stretch out. Ravitz is by now one of the top young World drummers and his prolific recording career proves that he is very much in demand, which is fully justified. His contributions on this album are an example of what inventive contemporary Jazz drumming is all about.

Overall this is a beautiful piece of Jazz music, which all connoisseurs of the genre should enjoy immensely, "guitar heaven" for those listeners who love the sound of guitar and a strong example of how mainstream Jazz can be intelligent and aesthetically perfect. Wholeheartedly recommended!

For Hi-Fi enthusiasts, this album has superb sound quality and one of the nicest, roundest guitar sounds I have heard in a long time – a true feast for the ears!
---