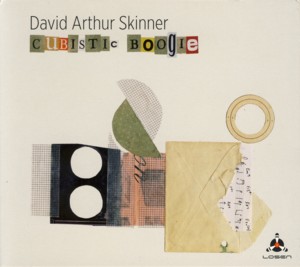 DAVID ARTHUR SKINNER ~ CUBISTIC BOOGIE
LOSEN 140 (Barcode: 7090025831409) ~ UK ~ Jazz
Recorded: 2015
Released: 2015
---
This is a solo piano album by British (resident in Norway) pianist / composer David Arthur Skinner

Find albums by this artist

. It presents twelve pieces, four of which are original compositions by Skinner and the rest are standards, arranged by Skinner.

On the album Skinner pays homage to "old Jazz", playing Stride, Swing and Boogie-woogie tunes, which have been either originally composed as such or skillfully adapted by Skinner to these early Jazz environments. The music is a mixture of good taste nostalgia with a dash of humor, and is a wonderful breath of fresh air in the crazy world we all live in.

Skinner plays with elegance and typical British nonchalance, which makes the music sound less formal and limited than it might usually appear, which is doing it a great service. His own compositions blend perfectly into the standards and sound as good as the well-known pieces.

Overall this album is a wonderful experience, fresh, entertaining and yet far from being trivial and most importantly doing a great service to the tradition, which gets often forgotten (if not obliterated). Keeping this music alive and kicking is in itself a good deed, and considering how well it is done it deserves our gratitude and admiration.

Grab a bottle of good wine, dim the lights, relax and put this music on – it will transform you a Century back in time, when class and good taste ruled.
---