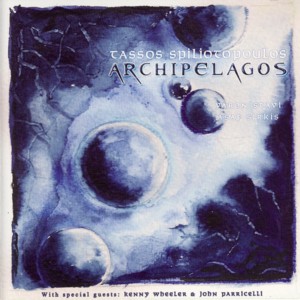 TASSOS SPILIOTOPOULOS ~ ARCHIPELAGOS
F-IRE 32 (Barcode: 5060092193221) ~ GREECE ~ Jazz-Rock Fusion
Recorded: 2009
Released: 2010
---
This is the second album by Greek (resident in London at the time) guitarist / composer Tassos Spiliotopoulos

Find albums by this artist

, recorded in a trio format with his customary cohorts at the time: Israeli bassist Yaron Stavi

Find albums by this artist

and drummer Asaf Sirkis

Find albums by this artist

, both also resident in London. Two guest musicians appear, each on one track only: guitarist John Parricelli

Find albums by this artist

and legendary (sadly no longer with us) trumpeter Kenny Wheeler

Find albums by this artist

, who plays a brilliant solo like only he could. The album presents eight original tracks, all composed and arranged by Spiliotopoulos.

Spiliotopoulos is certainly one of the most original voices among contemporary guitarists, playing and composing in a completely unique style which is incomparable with any other guitar player that I have heard and immediately recognizable. Considering the fact that there are countless guitar players out there, his individuality is already a great asset. Combined with his virtuosic abilities, it makes Spiliotopoulos a phenomenon worth following.

The music is a sort of Jazz-Rock Fusion, mostly sonically, as the actual melodies are way more delicate and complex than the average Fusion production, full of beautiful melancholy and intrinsic Mediterranean peace of mind. Spiliotopoulos, Stavi and Sirkis fir together ideally, as documented also on other recordings they are all featured on, and it shows. The interplay and camaraderie present here are simply marvelous.

Overall this is a beautiful album recorded by three Master musicians, which proves that Jazz-Rock Fusion has still something to offer when taken seriously. Wholeheartedly recommended, and if you can find a copy grab it ASAP.
---