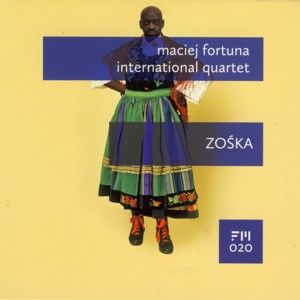 MACIEJ FORTUNA ~ ZOSKA
FM 020 (Barcode: 5903240365166) ~ POLAND ~ Jazz-World Fusion
Recorded: 2013
Released: 2015
---
Polish Jazz trumpeter / composer Maciej Fortuna

Find albums by this artist

is consistently building a reputation for himself both on the artistic and professional level; he releases his own records, he develops international collaborations with other musicians, he is active in social networking and organization and so on. In addition he manages to create some superb music on the way and keeps establishing his position in the top echelon of Polish Jazz trumpeters. For a young musician this is definitely very impressive.

Modern Polish Jazz is characterized, among other things, by amalgamation of Polish Folklore motifs with jazz. Such approach enjoyed a lot of popularity in the 1960s and 1970s, when it had its political significance as well, and now, in the second decade of the 21st Century it seems to be in full bloom again. Many top Polish Jazz musicians, like Irek Wojtczak

Find albums by this artist

, Piotr Orzechowski

Find albums by this artist

, High Definition Quartet

Find albums by this artist

(which also features Orzechowski), Marcin Masecki

Find albums by this artist

and many others, recorded albums based on this concept Fortuna adds his valuable contribution to this wonderful multicultural puzzle. In this case, similar to what Wojtczak did, Fortuna recorded the music with a quartet which except for him features an all American lineup: saxophonist Mack Goldsbury

Find albums by this artist

, bassist Erik Unsworth

Find albums by this artist

and drummer Frank Parker

Find albums by this artist

. The album presents ten tracks, six of which are traditional Polish Folklore songs / dances and four are original compositions, all by Fortuna, composed especially for this project.

Wojtczak´s album proved that American Jazz musicians can play Polish folklore-based music quite brilliantly and this album does it again. Goldsbury, Unsworth and Parker are all up to the challenge and honestly they play better on this album than on any album I have heard them play earlier on, which of course shows that when seriously challenged, musicians often perform better that usual. As Fortuna says, and I quote: "Following decades of Polish Jazz musicians playing American Jazz, it´s time for American Jazz musicians to play Polish Jazz". I couldn´t agree more.

The music is a Jazz-World Fusion project, but only well trained listeners will be able to recognize the exact origins of the tunes used here, both on the melodic and rhythmic layer. Fortuna´s originals fit in excellently to the overall sound and become an organic part of the project. Fortuna is the main soloist of course, but all the members of the quartet have plenty of opportunity to show their chops and the overall level of musicianship is superb.

Polish Jazz connoisseurs and enthusiast of Jazz-World Fusion explorations should enjoy this album immensely. All I can do is to urge everybody to give it a try ASAP, as it is definitely worth everybody´s attention. Well done, as usual!
---