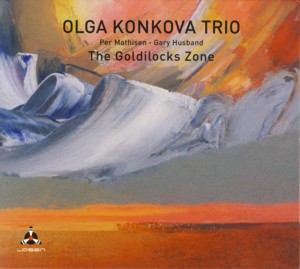 OLGA KONKOVA TRIO ~ THE GOLDILOCKS ZONE
LOSEN 134 (Barcode: 7090025831348) ~ NORWAY ~ Jazz
Recorded: 2015
Released: 2015
---
This is the fifth album by the piano trio led by Norwegian (born in Russia) pianist / composer Olga Konkova

Find albums by this artist

, which also includes her husband bassist Per Mathisen

Find albums by this artist

and British drummer Gary Husband

Find albums by this artist

. The album presents eleven original compositions, ten of which were composed by Konkova and one is co-credited to all the trio members and is largely improvised.. Six of the compositions are parts of a suite, which name gave the album its title.

From the very first notes on this album it´s pretty obvious that Konkova and her team mean "serious business" and have their very individual way to state it. The classic piano trio format, one of Jazz most archetypal settings, is perhaps the ideal environment to express the intricacies of the Jazz idiom, being just the right size on one hand, and not big enough to overcomplicate matters on the other. However, decades of piano trio´s history have shown a remarkable slow progress in the format, with many, often some of the absolutely best piano trios, sounding very alike, even when separated by decades from each other. Of course there are exceptions, but those are, as usual, an affirmation of the rule.

Therefore this trio is a very pleasant surprise exactly due to the fact that it is simply different from most others. The difference is plainly in sight (or rather hearing) on many layers; first acoustically as the presence of an electric bass, which is able to create a dissimilar ambience to its acoustic counterpart, the presence of the Fender Rhodes behind the acoustic piano and the completely unique approach and understanding of the role of the drummer in a piano trio, all of which are present here, and second the melodic layer, which is also very inimitable, far away from conventional "song" oriented compositions, which in this specific case are like "movements", being of a much broader melodic and harmonic scope. These characteristics might cause some consternation at first to an unprepared listener, but shortly after the dust settles the intrinsic beauty of this music become apparent.

Of course the individual contributions of the trio members are, as expected, wonderful. Konkova has a very individual touch and the piano notes she produces are very precisely and clearly stated, in contrast to many pianists who love the overly delicate touch, which produces a mushy sound. She is a sort of minimalist, stating exactly what she considers as absolutely essential and lets the listener´s mind to connect the dots. Mathisen is simply marvelous with his understanding and empathy towards the piano parts, playing along supporting the melody lines and stretching them when appropriate. His sensitivity and virtuosity are simply exceptional. Husband, who is sadly often underappreciated or misunderstood, plays perfectly here, also displaying brilliant sensitivity and smoothly moving between delicate rhythmic parts to a barrage of sound, whenever appropriate.

Overall this is not only a very beautiful album, but at the same time a very interesting and unusual one, presenting a fresh approach to Jazz in general and the piano trio format in particular. Well done Lady and Gentlemen - absolutely wholeheartedly recommended!
---