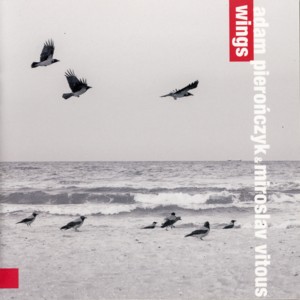 ADAM PIERONCZYK & MIROSLAV VITOUS ~ WINGS
FOR TUNE 0084 (Barcode: 5902768701890) ~ POLAND ~ Jazz
Recorded: 2015
Released: 2015
---
This is a duo album by Polish saxophonist / composer Adam Pieronczyk

Find albums by this artist

and Czech virtuoso bassist / composer Miroslav Vitous

Find albums by this artist

. Together they perform ten pieces, seven of which were composed by Pieronczyk, two were co-composed by Pieronczyk and Vitous and one was composed by Vitous.

The music is obviously only partly pre-composed and emphasizes the improvised dialogue between these two players, which is the most vital element presented on this album, which in turn definitely belongs to the "Art of the Duo" category. The duo format, although obviously perilous in its nakedness and exposure, is also ideal in many aspects; it enables a conversation, which solo format often lacks, it enables the listener to concentrate on just two musicians, which is easier to do than to follow a whole group of them, and finally it is intimate enough to bring out the best in its participants.

Listeners familiar with the recording legacy of Pieronczyk won´t be surprised by his superb performances on this album. He has produced consistently excellent output since the mid-1990s and is definitely one of Poland´s top Jazz figures, which considering how crowded that scene is, is already a great distinction. He obviously prefers small formats and already was engaged in the duo format with Polish pianist Leszek Mozdzer

Find albums by this artist

and recorded a solo saxophone album. His music always borders between contemporary modern Jazz and Free Form improvisation, amalgamating the Jazz legacy and the need to expand its horizons.

Vitous doesn´t need any introductions, but surprisingly on this album he plays much more openly and freely than usual, obviously inspired by the circumstances and his partner. His statements, both when playing alongside Pieronczyk and when soloing, are all extraordinary beautiful, elegant and expressive. Although living in the US since the late 1960s, his aesthetics is still very European, full of romanticism and Eastern European melancholy, and as such he fits the role of Pieronczyk´s partner ideally.

There are no weak moments on this album. From the starting notes and well after the music is all over, the feeling of a cohesive, continuous spiritual experience prevails. Although, as all improvised music, the music on this album is often challenging and engaging, it is remarkably accessible and keeps the listener in a relaxed state of mind, which is very rare in such circumstances.

This is definitely one of the best albums released on the Polish market in 2015 and proudly matches any album released anywhere else in the world. Polish Jazz enthusiasts will obviously find it as an essential ingredient of their listening milieu.
---