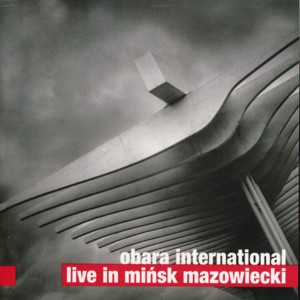 OBARA INTERNATIONAL ~ LIVE IN MINSK MAZOWIECKI
FOR TUNE 0080 (Barcode: 5902768701883) ~ POLAND ~ Jazz
Recorded: 2014
Released: 2015
---
This is the third album by the international ensemble led by Polish Jazz saxophonist / composer / bandleader Maciej Obara

Find albums by this artist

, which includes also Polish pianist Dominik Wania

Find albums by this artist

and the Norwegian rhythm section comprising of bassist Ole Morten Vagan

Find albums by this artist

and drummer Gard Nilssen

Find albums by this artist

, and which was expanded to a quintet with the addition of British trumpeter Tom Arthurs

Find albums by this artist

. The album was recorded live and presents seven original pieces, five of which were composed by Obara and one each by Vagan and Arthurs. The accompanying DVD is a straight-ahead documentation of the concert and offers no additional material.

Listeners familiar with Obara´s extensive recording legacy are of course familiar with his extraordinary qualities, but his work with this ensemble surely finds him at his artistic pinnacle. The music, which ideally balances the concept of composed music with the idiom of Free Jazz and extended improvisation, is a wonderful example of what contemporary European Jazz is all about.

With the addition of Arthurs to its ranks, the ensemble, in its classic Jazz Quintet setting, finally reaches the full power of expression, which enables it to present the full scale of solo and group improvisation. The musical approach if completely open, allowing the musicians to make lengthy individual statements, but also to create internal subset ensembles, like duets or trios, which are spontaneously created jus for a relatively brief duration. This fluctuating lineup and constant mutations are both fascinating musically and demanding intellectually, which of course is the best possible combination of stimuli.

The individual contributions by the ensemble members are all stellar. Arthurs is perhaps the best partner that Obara had so far, matching his powers of creativity and his virtuosic skills. Their work together, exchanging licks and playing unisono, is simply breathtaking. Wania consistently makes his way to the very top of European piano players and his brilliant work as soloist and accompanist is unprecedented. The rhythm section supports the soloists with flair and obvious camaraderie, but keeps a distinct identity and contributes solo statements as well.

Overall this is a classic example of European modern Jazz at its best, which is imaginative, creative and highly advanced. Based on the Jazz tradition, it expands the idiom towards new frontiers, keeping it alive and relevant. This is a one-hour concentrated capsule of Jazz at its best, which should keep every connoisseur of good music happy for a very long time. Brilliant from start to finish, this is a nectar we, Jazz enthusiasts, are always thirsty for.
---