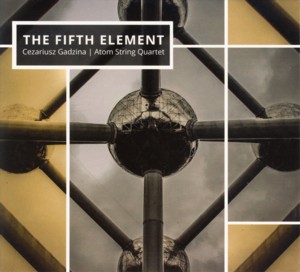 CEZARIUSZ GADZINA / ATOM STRING QUARTET ~ THE FIFTH ELEMENT
TAK 15002 (Barcode: 5905669373005) ~ POLAND ~ Jazz-Classical Fusion
Recorded: 2014
Released: 2015
---
This album presents a meeting between Polish (resident in Belgium) saxophonist / composer Cezariusz Gadzina

Find albums by this artist

and Poland´s premiere string ensemble, the Atom String Quartet

Find albums by this artist

, which comprises of violinists Dawid Lubowicz

Find albums by this artist

and Mateusz Smoczynski

Find albums by this artist

, violist Michal Zaborski

Find albums by this artist

and cellist Krzysztof Lenczowski

Find albums by this artist

. Together they perform eleven pieces, seven of which were composed by Gadzina, three are co-composed by all five participating musicians and one was composed by Lenczowski.

Gadzina has been active for years on the Jazz-Classical Fusion field and therefore the music on this album is exactly his "cup of tea". The association with Atom String Quartet is of course ideal for such kind of project. The music, which is beautifully melodic, mostly full of the archetypal Polish melancholy and lyricism, is a superb example of the cross-genre approach to music, combining elements of Classical harmony and arrangement, Jazz improvisation and Folkloristic musical themes. Most importantly, this is one of the cases where all these elements amalgamate completely naturally, in contrast to many similar projects where they are forcefully and clashingly put together.

Gadzina and the "Atoms", as they are often referred to on the Polish scene, seem to be fused together into a symbiotic ensemble. The soprano saxophone is tonally pretty close to the string instruments and fits the bill ideally. There is also an obvious camaraderie between the musicians, which can be felt in the relaxed and cooperative atmosphere, which is reflected by the music making,

This album is full of unexpected twists and turns, unusual sounds produced by the instruments and above all by the obvious level of talent and dedication by the participants. In many respects this is one of the highlights of the "Atoms" recorded legacy so far, stronger and more cohesive than some of their quartet recordings.

Whatever the listener chooses to hear in this music: the contemporary Classical elements, the fascinating musical layers or the Jazzy improvisations, or perhaps all of those and more, this is definitely an excellent album which should satisfy even the most demanding connoisseurs. I can therefore do nothing else but to recommend it wholeheartedly!
---