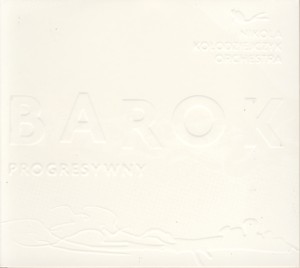 NIKOLA KOLODZIEJCZYK ORCHESTRA ~ BAROK PROGRESYWNY
NOT ON LABEL (Barcode: 5904730933018) ~ POLAND ~ Jazz-Classical Fusion
Recorded: 2013
Released: 2015
---
This is the second album by Polish Jazz pianist / composer / bandleader Nikola Kolodziejczyk

Find albums by this artist

, recorded by an orchestra which includes fifteen musicians from a variety of musical idioms: Classical, Jazz and Folklore, who play among others original instruments from the Baroque era. Together they perform a twelve-piece suite called "Barok Progresywny" composed by Kolodziejczyk. The music was performed completely acoustically and recorded "live" without any overdubs or multiple takes.

Kolodziejczyk´s debut album released a year earlier created quite a stir on the local Polish music scene, including a nomination for the county´s most prestigious music award. Such dramatic events are unfortunately very hard to beat and so far the release of this album seems to have created a much more modest response.

The music on this album is much less exciting in comparison to its predecessor. Heavily set in Classical Music, with just brief excursions into the Jazz of Folklore environments, the suite is dominated by melancholic, low key themes, which move forward slowly and hesitantly, much closer to Serialism or Minimalism than Baroque. A few excellent Jazz solos erupt sporadically, but as good as they are, they seem to be detached from the main line of the suite and sound rather out of place. The overall feeling the listener is left with once the music is over is quite depressing and therefore in complete contrast to the spirit of Baroque Music.

Kolodziejczyk is undoubtedly a very gifted and talented musician / composer and his work so far gives us a glimpse into his diverse and complex musical personality. Hopefully his ambitious orchestral projects will continue to be realized and recorded, which in today´s economic reality is far from trivial. Even if this album does not really make me jump out of my socks, I´m looking forward to hear more of his music, the sooner the better.
---