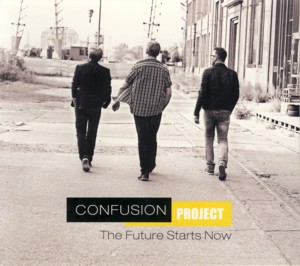 CONFUSION PROJECT ~ THE FUTURE STARTS NOW
BCD 37 (Barcode: 5906881885376) ~ POLAND ~ Jazz-Rock Fusion
Recorded: 2015
Released: 2015
---
This is the second album by young Polish trio called Confusion Project

Find albums by this artist

, which comprises of pianist / composer Michal Ciesielski

Find albums by this artist

, bassist Piotr Gierszewski

Find albums by this artist

and drummer Adam Golicki

Find albums by this artist

. The album presents seven tracks, six of which are original compositions by Ciesielski and one is the trio´s interpretation of a John Coltrane

Find albums by this artist

tune.

This album continues the modus operandi presented on the trio´s debut from a couple of years earlier; piano trio with electric bass, playing mostly original music in a Fusion oriented manner with strong Classical music influences recognized in the pianist´s approach to the instrument. There is no real progress from the debut and it sounds mostly as "more of the same".

The performances by all the trio members are accomplished and technically excellent in every respect: Ciesielski is a very skillful player and writes nice tunes, Gierszewski plays a great Funky bass guitar barrage and Golicki keeps the time like a chronometer. The only problem is that this music is not really going anywhere… Once it is over, at least in my case, it is easily forgotten.

I´m sure that these talented young musicians have a lot of potential and it is only a matter of finding the right formula which will take their music to the next level. It has not happened on this album, but it surely will happen one day.

Overall this is a nice Fusion album with a lot of interesting solos, especially by the bass player and some inspired moments, which should keep the average Fusion listener happy. Mind you this album is way better that most other contemporary Fusion albums, which have no musical contents whatsoever except for excessive and repetitious doodling, so here we are: quality is relative.
---