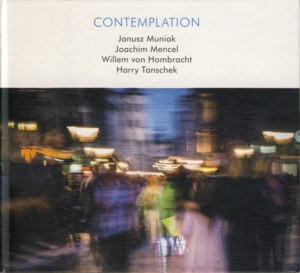 MUNIAK / MENCEL / VON HOMBRACHT / TANSCHEK ~ CONTEMPLATION
INSPIRAFON 03 (Barcode: 5903111259013) ~ POLAND ~ Jazz
Recorded: 2012
Released: 2015
---
This is a long awaited recording by the legendary Polish Jazz saxophonist / composer Janusz Muniak

Find albums by this artist

, recorded in a classic quartet setting with Polish pianist Joachim Mencel

Find albums by this artist

, American bassist Willem von Hombracht

Find albums by this artist

and Austrian drummer Harry Tanschek

Find albums by this artist

. Together they perform nine tunes, eight of which are standards and one is an original composition by Muniak.

Although the album is credited to all four quartet members, it is obvious that it celebrates the participation of Muniak, who last recorded an album in 2002, i.e. ten years before this material was recorded three years before it was released. Muniak´s original composition on this album is the title track of that previous album.

It is obviously almost impossible to be even seemingly objective abut this music considering the legendary figure of the leader, who is without a doubt one of the great Godfathers of Polish Jazz. The album is entirely immersed in the mainstream Jazz idiom, both as far as the music which is being performed and the way it is performed. Muniak´s tone is still intact, although he plays mostly softly and keeps his phrases short and sweet. The piano trio supporting him is solid and very amicable, supporting the leader all the way through. Everybody is extremely cautious, trying to be gentle and round, which means there are risks being taken at all.

In many respects this album makes me sad and reflective, as it points out that time is not standing still for anybody. Overall this is a nice mainstream album, no surprises, no risks, no news, a gentle wave of hand by a great Master saying "I can still do it". Respect!
---