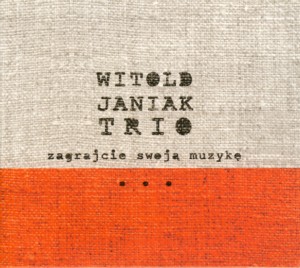 WITOLD JANIAK ~ ZAGRAJCIE SWOJA MUZYKE
NOT ON LABEL (Barcode: 5908254159527) ~ POLAND ~ Jazz
Recorded: 2015
Released: 2015
---
This is the fourth album by Polish Jazz pianist / composer Witold Janiak

Find albums by this artist

, recorded in a classic piano trio setting with bassist Rafal Rozalski

Find albums by this artist

and drummer Kamil Miszewski

Find albums by this artist

. It presents nine traditional Polish folkloristic tunes rearranged into the Jazz idiom by Janiak. The album was recorded at the excellent Studio Tokarnia and engineered by Jan Smoczynski

Find albums by this artist

, with the usual superb sound result.

Judging by the number of albums related to Polish Folklore it seems that the Polish Jazz scene rediscovered its roots in 2015, in a way repeating a trend that was quite popular in the 1960s and 1970s. Some of those recent albums are truly revealing and present superb aesthetic achievements, while others sadly are much less original and seem to just blindly follow a fad.

Janiak and his trio are very proficient musicians and their playing is without reproach all the way through, but the resulting music simply does not rise above the level of being "nice". There is no fire or emotional stir that makes a Jazz album rise above the average. The folkloristic influence is very marginal and does not come forward enough, beyond stating the basic melody line, failing to achieve the amalgamation of the two genres.

To be fair this is still a very decent piano trio album, which many Jazz fans can enjoy; it simply does not compare to other exceptional Jazz albums released in Poland, which are way more artistic, engaging and fulfilling.
---