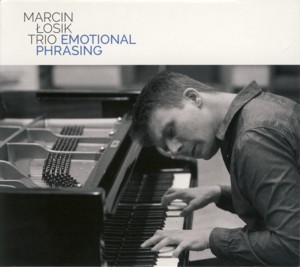 MARCIN LOSIK ~ EMOTIONAL PHRASING
DOT TIME 9037 (Barcode: 604043903726) ~ POLAND ~ Jazz
Recorded: 2014
Released: 2015
---
This is the debut album by Polish Jazz pianist / composer Marcin Losik

Find albums by this artist

, recorded in a classic piano trio format with bassist Ksawery Wojcinski

Find albums by this artist

and drummer Robert Rasz

Find albums by this artist

. It presents eight original compositions, all by Losik.

From the very onset of the music it is immediately clear that Losik is yet another representative of the incredibly talented new wave of Polish Jazz pianists / composers that is erupting on the local scene in the last decade. His highly sensitive, versatile and emotional piano playing is completely inconsistent with his age and so are his compositional abilities, which are revealed in full herein.

The music reflects beautifully the typical Polish approach to Jazz composition, which merges lyricism and romanticism with highly advanced harmonic development, leaving enough breathing space and air for the musicians to express themselves and to have a mystery element floating somewhere between the notes. All eight compositions are equally interesting and intelligent, which by itself is already an outstanding achievement.

The individual contributions by the trio members are all stellar, but all quite different from each other. Losik plays with passion but strokes the keys delicately and with great sensitivity, improvising elegantly and often playing around with the tempi, which could be well described by the album´s title. He leaves a lot of space for Wojcinski, who is carrying the burden of the metronome brilliantly along the way but also plays several dazzling solos. I must say that this is definitely some the best playing I have heard by Wojcinski over the years, solid, precise, highly melodic and technically brilliant. Rasz keeps his drumming well in check, painting the rhythmic textures amicably and most of all not trying to dominate the music. As a trio these musicians function as close to perfection as one might expect, obviously communicating and cooperating at all times.

If this is what Losik is able to show us on his debut album, it becomes truly frightening to contemplate what he can achieve in a decade. The young European musicians of today show a level of education and proficiency which musicians half a century ago achieved only after decades of playing experience. In any case this is definitely a most impressive debut, which deserves the attention of all fans of European Jazz, wherever they might be. Well done indeed!
---