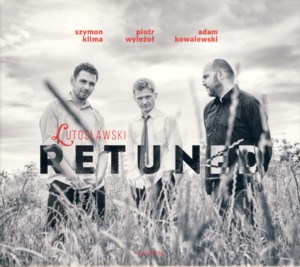 KLIMA / WYLEZOL / KOWALEWSKI ~ LUTOSLAWSKI RETUNED
HEVHETIA 0114 (Barcode: 8588005257664) ~ POLAND ~ Jazz-Classical Fusion
Recorded: 2014
Released: 2015
---
This is the debut album by a Polish Jazz trio comprising of clarinetist Szymon Klima

Find albums by this artist

, pianist Piotr Wylezol

Find albums by this artist

and bassist Adam Kowalewski

Find albums by this artist

. Veteran Polish Jazz musician Piotr Baron guests on one track playing bass clarinet. The album´s music was all composed by the contemporary Classical Polish composer Witold Lutoslawski

Find albums by this artist

, and includes his five dance preludes (composed in 1954 as a five-parts suite) and a sixth unrelated composition, which was initially published under a pseudonym.

What prompted to rearrange (or retune) these composition for a Jazz environment was probably the Lutoslawski Year celebrations in 2013 (his 100 Birthday), which were a big cultural event in Poland and brought the composer to the attention of a much wider audience, including many young Jazz musicians. As a result a long list of Polish Jazz albums, like this one, paid tribute to the great composer; for example "Inspired By Lutoslawski

Find albums with this title

" by Grazyna Auguscik

Find albums by this artist

, "Bukoliki

Find albums with this title

" by High Definition Quartet

Find albums by this artist

, "Atomsphere

Find albums with this title

" by Atom String Quartet

Find albums by this artist

and many others.

The dance preludes suite, which was originally composed for clarinet and piano, was later twice (1955 and 1959) re-orchestrated for larger ensembles, but Klima based his Jazzy approach on the original intimate version, which remains intimate under the new arrangement. As almost always with Lutoslawski, his music is deeply rooted in the Polish Folklore, and these "dances" all bear resemblance of the characteristic folklore melodies and harmonies, at least to people who are acquainted with that music.

Klima, both as arranger and player, oscillates between the Classical and the Jazz idioms, as his clarinet tone and phrasing are almost completely Classical whereas his improvised parts are of course Jazz related. Of course Wylezol and Kowalewski are bona fide Jazz musicians, and their contributions have a decisive weight to turn this music into a wonderful Jazz-Classical Fusion.

The intimacy of this music, the virtuosi performances, the elegant and respectful treatment of the original inspirations all add up to a superbly balanced and delightful musical adventure, which should prove pleasing and satisfying to all connoisseurs of good music. Hopefully some of the listeners will try to find out how the music sounds in its original Classical incarnations, and perhaps venture into more fabulous music created by Lutoslawski, other might wish to explore other recordings by Wylezol and Kowalewski, also released by the excellent Hevhetia

Find albums on this label

label. If so everybody wins, both of the Classical and the Jazz enthusiasts.

This album is a great example of a cross-genre exploration, which treats the origins with respect and love, creating a new, perfectly valid amalgamation, which manages to preserve the aesthetics of its origins. Wholeheartedly recommended!
---