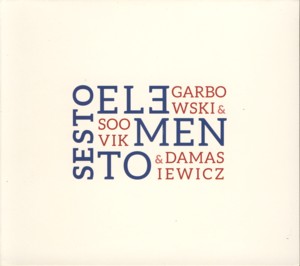 GARBOWSKI / DAMASIEWICZ / SOOVIK ~ SESTO ELEMENTO
FSR 2015/04 (Barcode: 5905279364042) ~ POLAND ~ Jazz
Recorded: 2013
Released: 2015
---
This is a live recording, captured during the Ad Libitum Festival in Warsaw, by an Improvised Music trio comprising of Polish bassist Maciej Garbowski

Find albums by this artist

, Polish trumpeter Piotr Damasiewicz

Find albums by this artist

and Swedish drummer William Soovik

Find albums by this artist

. The album presents nine tracks of freely improvised music, with the composition rights not credited on the album´s packaging, therefore by default assumed to be co-created by the trio members. The album was mixed and mastered by Jan Smoczynski

Find albums by this artist

, owner of the Studio Tokarnia, which guaranties a great sound quality.

Garbowski is one of my favorite Polish Jazz bass players, who has a proven record not only in the "conventional" Jazz environment as a member of the fabulous RGG

Find albums by this artist

trio, but also in much more adventurous experiments, some of them involving also Damasiewicz. This recording is however the most radical environment as far as everything I heard so far by Garbowski. This "total" freedom seems to ill-serve his great talent, mostly because although his playing here is as brilliant as always, it is somewhat detached from his partners, who seem to be exploring their own private avenues.

Damasiewicz progressed quite consistently towards freely improvised music in the stretch of the last few years and although I loved his playing a few years ago, when it showed promises of catapulting him to the very top of the Polish Jazz trumpet pedestal, his more recent explorations leave me much less enthusiastic.

Soovik plays along agreeably with his Polish cohorts, but his contributions to the trio´s effort are overall almost unnoticed, staying way in the background most of the time. Nothing wrong with that of course, but in a free improvised environment the total input is what counts as the final result.

There are many interesting moments on this album, some brief highly inspired flashes of sheer genius, but sadly overall while this music was probably a stimulating listening experience, its weight as recorded document is much less significant. As usual the decision do release a piece of recorded music on record is not an easy one and always a very subjective matter.
---