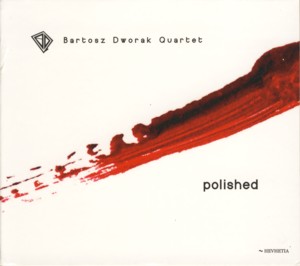 BARTOSZ DWORAK ~ POLISHED
HEVHETIA 0091 (Barcode: 8588005257336) ~ POLAND ~ Jazz
Recorded: 2015
Released: 2015
---
This is the second album by Polish Jazz violinist / composer Bartosz Dworak

Find albums by this artist

and his quartet, which also includes pianist Piotr Matusik

Find albums by this artist

, bassist Jakub Dworak

Find albums by this artist

and drummer Szymon Madej

Find albums by this artist

. The quartet performs nine original compositions, four by Bartosz Dworak and five by Matusik. Several of these compositions already appeared on the quartet´s debut album, which was a live recording, and get here a more polished (tongue-on-cheek) version.

Dworak proudly joins a long list of Polish Jazz violinists, which keeps growing as the years go by, and includes such luminaries as Michal Urbaniak

Find albums by this artist

, Zbigniew Seifert

Find albums by this artist

, Krzesimir Debski

Find albums by this artist

, Adam Baldych

Find albums by this artist

and young lions like Mateusz Smoczynski

Find albums by this artist

and Dawid Lubowicz

Find albums by this artist

. This wonderful legacy can be of course quite overwhelming and daunting, but Dworak seems to have no inferiority complexes whatsoever and gallantly steps into their shoes, doing his own thing.

Although Dworak is the leader of this quartet, the compositional and soloing duties are split quite equally between him and Matusik, who wrote about half of the music and plays superb piano parts, both supporting the violin parts and soloing himself. The rhythm section plays along with the two soloists supporting them amicably but staying mostly in the background, which in this specific music is probably all for the best.

The music is all pretty straightforward melodic mainstream, although at some moments the quartet ventures, albeit only partly, into a less clearly defined set of parameters. Of course, as usual with Polish Jazz violinists, the music is soaked in melancholy and lyrical folkloristic undertones, which brings fond memories of the material recorded by those musicians listed in the second paragraph. All nine tunes are beautifully melodic, which surely opens this album to a very widespread range of audiences, even those beyond the Jazz idiom.

In many respects this album could be considered as a debut, since the semi-formal live recording released earlier was really just a teaser of things to come. And as a debut it certainly is a very impressive effort, in every respect, which keeps the hopes for a new generation of Polish Jazz musicians in general and violinists in particular at their highest. Personally I simply can´t wait for the next album, which will be the decisive proof of maturity. In the meantime we can all enjoy this gem!
---