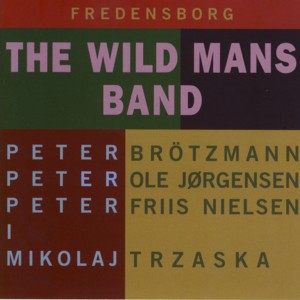 WILD MANS BAND ~ FREDENSBORG
NINTH WORLD 050 (Barcode: 5709498212524) ~ GERMANY ~ Jazz
Recorded: 2013
Released: 2015
---
This is the sixth album by The Wild Mans Band

Find albums by this artist

, a conceptual trio, which invites other musicians to join them one at a time in turn, to create an ad hoc quartet. The trio consists of veteran European Free Jazz / Improvised Music musicians: German saxophonist / clarinetist Peter Brotzmann

Find albums by this artist

, Danish bassist Peter Friis Nielsen

Find albums by this artist

and Danish drummer Peter Ole Jorgensen

Find albums by this artist

. On this album they are joined by the great Polish saxophonist / clarinetist Mikolaj Trzaska

Find albums by this artist

, who completes the quartet lineup. The quartet performs five original compositions, all co-composed by all the quartet members.

The music is a fantastic explosion of raw energy and collective improvisation of the highest caliber, which hardly leaves a moment to gather one´s thoughts, simply taking the listener on a wild and reckless journey of imagination and emotional treasure hunt. The level of interplay and individual virtuosi statements is staggering and this music has something new to offer with every listening session.

Brotzmann and Trzaska cooperate superbly together and the age and background differences seem to have no influence whatsoever on their incredible dialogues. With both of them having a very strong and unique personalities, their interplay is even more intense and eventually also more fruitful than other meetings of this kind.

The rhythm section is also absolutely brilliant, standing shoulder to shoulder with the intense foreground action. Nielsen has an incredible flexibility and speed and his pulsation keeps the entire musical environment in check, saving it from chaos and anarchy. Jorgensen is very skillful in not barraging the proceedings with his drumming, which would have annihilated the overall sound, keeping his wonderful drum parts just at the right level to be audible but not dominating. On the more serene parts his drumming is very musical and even melodic, adding a new dimension to the entire outcome.

In short this is a great example of Free Jazz / Improvised Music that is creative, surprising, emotional and engaging, which unfortunately does not happen too often in that idiom. Completely lacking any ego trips and the need to prove something, this music simply flows naturally, which makes it stronger and more influential than music that is trying to impress.

This is a must have for all lovers of Free Jazz / Improvised Music, as recordings of such class, masterly execution and aesthetic beauty are rare indeed.
---