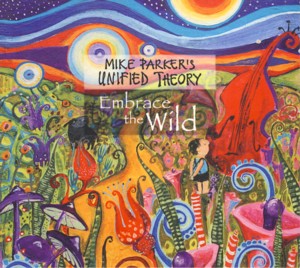 MIKE PARKER / UNIFIED THEORY ~ EMBRACE THE WILD
PRIVATE EDITION ~ USA ~ Jazz
Recorded: 2013
Released: 2015
---
American bassist / composer Mike Parker

Find albums by this artist

spent a period of a year and a half living in Krakow and playing with local young Polish Jazz musicians. He was a member of the NSI Quartet

Find albums by this artist

, together with trumpeter Cyprian Baszynski

Find albums by this artist

, saxophonist Bartlomiej Prucnal

Find albums by this artist

and drummer Dawid Fortuna

Find albums by this artist

, recording with them their excellent eponymous debut album. In parallel and with the addition of the saxophonist Slawomir Pezda

Find albums by this artist

they also recorded this album, Parker´s second recording as a leader so far, which is released only now. It presents eight original compositions, all by Parker (except one co-composed with Prucnal), three of which are parts of a suite.

As already mentioned in my review of the NSI Quartet album, Parker had a huge influence on his Polish cohorts, taking them away from the European Jazz idiom into more traditional American approach. On this album this is even more perceptible, as the band is playing Parker´s compositions and not those by the Polish players, like on the a.m. album.

Parker´s music is a great example of modern American Jazz, which keeps up with the changes happening in the music and manages to get itself free from the stagnation that characterizes most American mainstream. His compositions are all well structured and include melodic statements, which then are improvised on, but the freedom and breathing space present in the music allow the musicians to take off and express their individuality, before returning to the compositional structure. All of his pieces are a pleasure to listen to, and the three-part suite that concludes the album is a profound and very moving composition that proves his great talent as a composer.

Of course Parker also plays some tasteful bass parts and his Polish colleagues, all of them superb musicians as well, make this music to come alive in its full splendor. These are after all some of the young lions that will represent the European Jazz scene in a few years.

Overall an excellent effort, in every respect, definitely worth listening to, so get it ASAP and help Parker to move on and create some more great music for all of us to enjoy!
---