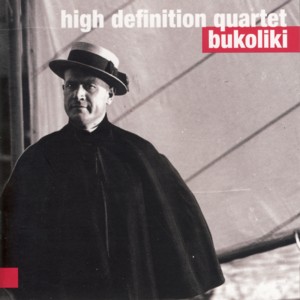 HIGH DEFINITION QUARTET ~ BUKOLIKI
FOR TUNE 0074 (Barcode: 5902768701760) ~ POLAND ~ Jazz
Recorded: 2015
Released: 2015
---
This is the second album by the Polish Jazz outfit called High Definition Quartet

Find albums by this artist

, which comprises of saxophonist Mateusz Sliwa

Find albums by this artist

, pianist Piotr Orzechowski

Find albums by this artist

(a.k.a. Pianohooligan

Find albums by this artist

), bassist Alan Wykpisz

Find albums by this artist

and drummer Dawid Fortuna

Find albums by this artist

(who replaced Patryk Dobosz

Find albums by this artist

). The album presents five pieces related to the five piano miniatures by contemporary Polish Classical composer Witold Lutoslawski

Find albums by this artist

based on Polish Folklore tunes from the Kurpian region and called "Bukoliki". Orzechowski, rather than using the pieces by Lutoslawski, found the original Folk tunes that Lutoslawski used as his inspiration and rearranged them into his own version of "Bukoliki", later transforming it into the Jazz quartet version heard here.

As the year 2015 swiftly approaches its ending it becomes apparent that the Polish Jazz scene this year was dominated by two parallel trends: the re-discovery of Polish Folklore and the re-discovery of Polish contemporary Classical Music by Polish Jazz musicians / composers. The most impressive releases by Polish Jazz artists in 2015 are either related to one or another of these trends and in some cases, like this album, to both of them simultaneously.

Orzechowski, who is obviously the most dominating personality in this team, has already a rich history of tackling with Folklore ("15 Studies For The Oberek

Find albums with this title

") or Classical Music ("Experiment: Penderecki

Find albums with this title

") and this album is a natural development as far as his musical path is concerned. What is less natural and much closer to "supernatural" is of course his immense talent to transpose pieces of music between genres or rather to transform them into his own universe, which is completely unique and unparalleled by anybody else.

But it takes a team work, like the one presented here, to make this transformation complete. Sliwa, Wykpisz and Fortuna, all brilliant representatives of the young generation of Polish Jazz musicians, play along Orzechowski completely free of any inferiority complexes and sound like young semi-Gods performing in Pieria at the foot of the Olympus Mountain with Zeus and the rest of the Godly pack grinning madly and the Muses dancing along as if possessed by the sounds floating in the air.

From the very first notes heard on this album it becomes immediately apparent that this is one of the best pieces of music produced in the Jazz sphere this year, not only in Poland, but worldwide. The intensity, elegance, flair and above all European aesthetic is omnipresent here, creating a true artistic masterpiece. I am not going to name it the "best" album of 2015, not because it does not deserve the title, but simply because I don´t believe art is a competition. It is brilliant and deserves to be heard by every music connoisseur on this planet, before the barbarians take the world over or our idea of Culture implodes upon itself. Absolutely essential!
---