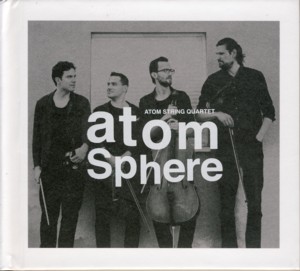 ATOM STRING QUARTET ~ ATOMSPHERE
KAYAX 087 (Barcode: 5907678818454) ~ POLAND ~ Jazz-Classical Fusion
Recorded: 2014
Released: 2015
---
This is the third album by the Polish string quartet called Atom String Quartet

Find albums by this artist

, one of the most unique and successful music ensembles on the local scene in the last half-decade, which comprises of violinists Mateusz Smoczynski

Find albums by this artist

and Dawid Lubowicz

Find albums by this artist

, violist Michal Zaborski

Find albums by this artist

and cellist Krzysztof Lenczowski

Find albums by this artist

. Recorded a couple of years after its predecessor, this album, spread over two CDs, presents twelve new original compositions (five by Lenczowski, two by Smoczynski, two by Lubowicz, two by Zaborski and one co-composed by all of them), two compositions by Polish contemporary Classical composer Witold Lutoslawski

Find albums by this artist

(arranged by Lenczowski) and finally one by legendary Polish Jazz violinist Zbigniew Seifert

Find albums by this artist

(arranged by Smoczynski).

Musically this album more or less follows the same pattern already established by its predecessors, with the quartet walking the rope between Jazz influenced pieces and more "serious" Classically influenced pieces, somehow managing to keep the two quite diverse trends to merge and coexist. They are all obviously extremely talented musicians and composers, virtuosi performers and great entertainers, but at this point of their existence the question if their novelty and extraordinary abilities are enough to keep them going?

Perhaps the decision to release a double album was a bit hasty as the material, as good as it is, is certainly not diverse enough to justify a two CD extravaganza. Perhaps a single CD of more simmered down, distilled and self-censored material would have worked better?

On the other hand these young people have obviously a lot to say and feel an urge to share their musical discoveries with a large audience, which is perfectly fine. They can, after all, play extremely well and the string wizardry is always exciting.

Personally after listening to this double album several times I still can´t grasp exactly why I feel a bit disappointed? Perhaps the feeling of déjà vu is to blame; in any case I am sure that many listeners will find this album very satisfying. I still hope these young people have more in them that shown herein.
---